Jose Peguero ID'd as Man Killed in South Phoenix Car Crash near 35th Avenue and Lower Buckeye Road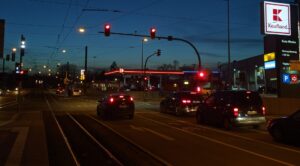 Phoenix, Arizona (November 3, 2023) – Authorities have identified 57-year-old Jose Peguero as a man killed in a crash early Friday morning near an intersection in South Phoenix.
The police responded to the tragic traffic collision at around 4:30 a.m. near 35th Avenue and Lower Buckeye Road.
Reportedly, Peguero was driving south on 35th Avenue when he ran a red light at Lower Buckeye Road and collided with an SUV.
Peguero was killed in the crash.
An investigation is ongoing.
Phoenix, Arizona (November 3, 2023) – One person is dead in a two-vehicle collision that happened early Friday morning in Phoenix, police said.
Phoenix firefighters responded to 35th Avenue and Lower Buckeye Road after receiving reports of a collision around 4:30 a.m.
The firefighters arrived at the scene and found a man trapped inside a heavily damaged car.
The victim was freed and rushed to the hospital in critical condition.
Police said the crash resulted in one fatality but did not specify whether the deceased was a second victim or the one initially hurt.
An investigation into the crash is ongoing.
Fatal accidents are termed wrongful deaths when caused by negligence or wrongdoing during driving. The other motorist could be recklessly driving, speeding, and driving while under the influence of alcohol and drugs.
Losing a loved one is not only emotionally draining but also financially overwhelmingly. We always advise that you seek legal assistance from wrongful death attorneys to help you seek payment connected to the killing of your loved one. The payments help pay for burial expenses, loss of income, and medical bills incurred when the deceased received treatment. Call us for a free consultation. Click to call : 866-803-6502 .