2 Hospitalized after Pasadena Accident at Raymond Avenue and California Boulevard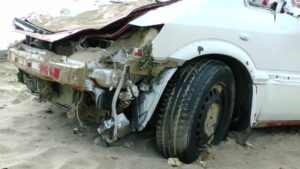 Pasadena, California (September 28, 2023) – Two people were hospitalized after a crash involving a train and a vehicle in Pasadena Thursday morning.
Lisa Derderian of the City of Pasadena said the incident was reported at around 9:20 a.m. at Raymond Avenue and California Boulevard.
A Metro A train collided with a car in unclear circumstances.
The woman, who was the sole occupant in the car, was extricated and was rushed to a hospital to be treated for moderate injuries.
The train operator was also taken to hospital with minor injuries.
The tracks were closed in the area for the police investigation, so buses were being used to carry passengers to the Del Amo, Fillmore, and South Pasadena stations.
Shortly after noon, trains began running through the area again, sharing a single track in both directions.
More details about the crash were not provided.
An investigation is underway.
Have You Been Hurt in an Accident?
Internal organ damage resulting from a car accident can be dangerous and potentially life-threatening. Car accidents can cause significant impact forces, sudden deceleration, and abrupt changes in motion, leading to trauma to internal organs. Seek immediate medical evaluation and treatment if you have been involved in a major crash.
If you have suffered internal organ damage due to a car accident, consulting with a personal injury lawyer specializing in car accident cases is crucial. They can assess your case, help determine liability, and assist you in seeking compensation for your medical expenses, pain and suffering, lost wages, and other damages resulting from the accident.Click to call : 866-803-6502.