39-Year-Old Rider Killed in San Diego Motorcycle Crash on 5 Freeway at I-805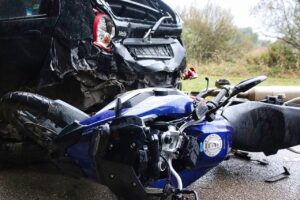 San Diego, California (November 6, 2023) – A 39-year-old rider was killed in a deadly motorcycle crash on Interstate 5 in Torrey Preserve Monday night, according to the California Highway Patrol.
At about 9:01, CHP officers responded to reports of a traffic collision involving a motorcycle and a vehicle on 5 Freeway at Interstate 805.
According to the CHP, a black Harley Davidson motorcycle was stopped in the traffic lanes for unknown reasons, when it was struck by a Honda Crosstour.
The rider was ejected from the bike and was struck by a second vehicle. The second vehicle did not stop after hitting the pedestrian.
Authorities say the motorcyclist sustained fatal injuries and was pronounced dead at the scene.
No additional information about the crash is available at this time.
The crash is under investigation.
Common Types of Interstate Motorcycle Accidents  in CA
Interstate motorcycle accidents can involve various scenarios and factors. While each accident is unique, here are some common types of motorcycle accidents that can occur on interstates in CA:
Intersection accidents:

Interstates often intersect with other highways, roads, or ramps. Motorcycle accidents can happen at these intersections due to factors like failure to yield, red-light violations, or improper lane changes by other vehicles.

Rear-end collisions

: Rear-end accidents happen when a vehicle strikes the rear of a motorcycle. These can occur if a driver fails to maintain a safe following distance or is distracted, resulting in a collision with a motorcycle in front.

Lane-changing accidents:

Accidents can occur when a vehicle fails to check blind spots or uses improper signaling while changing lanes, leading to a collision with a motorcycle traveling in the adjacent lane.

Merge-related accidents:

Merge accidents happen when vehicles entering or exiting the interstate fail to yield or properly merge, resulting in a collision with a motorcycle already on the highway.

Sideswipe accidents:

Sideswipe accidents occur when a vehicle collides with a motorcycle while traveling parallel to each other, often due to the driver's failure to check mirrors or maintain a safe distance.
Pacific Attorney Group has a team of skilled motorcycle accident attorneys with several years of experience handling injury claims that arise from motorcycle accidents. If you have been injured in a motorcycle accident or lost a loved one, Click to call : 866-803-6502 us as soon as possible for a free and confidential consultation.