One Seriously Injured in Long Beach 3-Vehicle Crash on 405 Freeway at Interstate 710 in Long Beach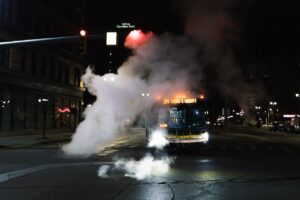 Long Beach, California (November 7, 2023) – One person was seriously injured late Monday night in a crash involving multiple vehicles on Interstate 405 in Long Beach, according to a CHP report.
The incident was reported around 11:21 p.m. on Interstate 405 Freeway, just north of 710 Freeway connector.
Responding crews found three vehicles including a black Lexus at the scene. One of the vehicles was blocking the HOV lane and another was blocking the transition road facing the wrong way.
Authorities say two vehicles caught fire and became fully engulfed.
According to the CHP, a female party at the crash scene was found unconscious. At least one person sustained major injuries in the collision.
A separate traffic collision involving two vehicles occurred at the same location. No one was hurt in the second incident.
No additional details regarding the crash were provided. The crash remains under investigation.
Have you been injured in a multi-vehicle crash in Long Beach?
Multi-vehicle collisions can be very catastrophic due to the high number of vehicles involved and the potential for chain reactions. When you get involved in a multi-car accident, the physical and emotional toll can be overwhelming. Navigating the legal process can be complex and challenging, and as such, we recommend seeking legal guidance as soon as possible to protect your rights and maximize your chances of obtaining fair compensation for your injuries and damages.
At Pacific Attorney Group, our car accident lawyers will help you navigate the entire process efficiently, build a strong case, and pursue fair compensation for your injuries and damages. Click to call : 866-803-6502 today for a free consultation to discuss your case with an experienced multi-vehicle accident lawyer.