Gwendolyn Pointer ID'd as Woman Killed in Leimert Park Accident at Crenshaw Boulevard and 39th Street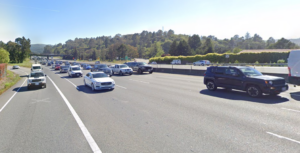 Leimert Park, California (August 15, 2021) – Gwendolyn Pointer, 60, of Baldwin Hills, has been identified as the woman who was killed in a hit-and-run crash on Monday morning in Leimert Park, authorities said.
The deadly hit-and-run pedestrian crash occurred at about 3:00 a.m. at 39th Street and Crenshaw Boulevard, just south of Coliseum Street.
According to the officials, Gwendolyn Pointer of Baldwin Hills was driving southbound on Crenshaw Boulevard when she stopped her car near the intersection of 39th Street and exited the vehicle to care for a cat lying in the road.
A vehicle, driven by Kateara Treggs, also driving southbound on Crenshaw Boulevard, reportedly approached Pointer's car from behind and switched lanes to avoid crashing into it, allegedly striking Pointer.
Gwendolyn Pointer Killed in Hit-And-Run Crash at Crenshaw Boulevard and 39th Street
Sadly, Gwendolyn Pointer was pronounced dead at the scene.
Treggs pulled to the side of the roadway, exited her car to retrieve a piece of her vehicle, and fled the scene. She was later arrested for felony hit-and-run at about 6:30 a.m. on Monday, and her vehicle was retrieved as evidence, but she was released from jail on her own recognizance the same day.
Treggs is scheduled to appear at the Los Angeles County Superior Court on December 6.
An investigation into the accident is underway.
Notable Pedestrian Accident Statistics According to the California Office of Traffic Safety:
893 pedestrians were killed, and more than 14,000 were injured on California roadways in 2018.
California's pedestrian fatality is almost 25% higher than the national average.
California is among the leading states in pedestrian deaths.
Safety Tips for Pedestrians
Make yourself visible to other road users by wearing bright-colored clothes, reflector jackets, or using a flashlight when walking at night.
Avoid distractions such as using your phone while on the streets.
Cross streets on marked crosswalks and obey traffic lights.
Always pay attention to your surroundings.
Be predictable by observing all traffic rules and obeying signs and signals.
If you have lost someone you love in a pedestrian accident and need legal help, call our law office at  Click to call : 866-803-6502 and talk to an accident attorney.