Jordan Little ID'd as Man Killed in Bakersfield Head-On Collision on Highway 43 near Panama Lane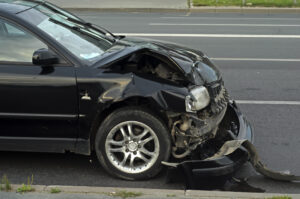 Bakersfield, California (October 27, 2023) – The Kern County Coroner's Office has identified Jordan Daniel Little, 42, of Bakersfield as the man killed in a head-on crash in Bakersfield Wednesday afternoon.
The California Highway Patrol received reports of a deadly head-on crash on Highway 43 near Panama Lane at around 12:15 p.m. October 25.
Little was driving a Kia Sol when for unknown reasons drifted into the northbound lane directly in front of a semi-truck, causing a head-on collision.
The Kia spun out and overturned on its side.
Little, who was not wearing a seatbelt at the time of the crash, was pronounced dead at the scene.
The truck driver suffered minor injuries.
An investigation is ongoing.
ORIGINAL STORY
Bakersfield, California (October 25, 2023) – At least one person died in a car crash that happened on Wednesday afternoon in Bakersfield.
The accident was reported at around 12:15 p.m. on Highway 43 near Panama Lane the California Highway Patrol reported.
Two semi-trucks and a passenger vehicle were involved in the collision, but the events leading up to the accident were not immediately established. The impact of the collision sent the pickup truck into a field.
One person was killed in the accident.
The name of the deceased person was not immediately disclosed.
State Route 43 was closed between Panama Lane and the State Route 58 junction as the scene was cleared.
An investigation into the accident is underway.
Have You Been Injured in a Truck Accident?
Truck accidents are some of the most dangerous types of motor vehicle accidents on the roads in America. A truck accident can involve any type of large commercial vehicle, including semi-trucks, tractor-trailers, box trucks, and delivery vans.
Due to the size and weight of these vehicles, truck accidents often result in serious injuries, including broken bones, head trauma, internal injuries, paralysis, amputated limbs, and even fatalities.
If you have been injured in a truck accident, it is advisable to seek the assistance of an experienced truck accident attorney who is familiar with laws specific to trucking to assess your case and determine the appropriate legal action.
At Pacific Attorney Group, our team of attorneys will help protect your rights, gather evidence, navigate the legal process, negotiate with insurance companies, and pursue the compensation you deserve.
Call us today and a truck accident lawyer will help establish who is liable for your injuries and fight for rightful compensation. Click to call : 866-803-6502.