Baltazar Rayon, 28,  Among Two Killed When Minivan Crashed into Metro Bus While Being Pursued by Police in Downtown Los Angeles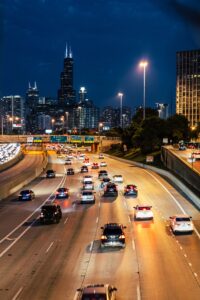 Los Angeles, California (November 6, 2023) – One of the two people who died early Sunday morning after a minivan collided with a metro bus during a police chase has been identified.
According to the Los Angeles County Department of Medical Examiner, 28-year-old Baltazar Rayon was pronounced dead at the scene of the crash. Rayon and the second victim were rear-seat passengers of the minivan.
The driver of the minivan and the front-seat passenger were hospitalized with non-life-threatening injuries.
According to LAPD, the pursuit began when patrolling officers spotted someone throwing out a gun from the minivan at 101 Freeway and Central Avenue at about 5 a.m. Sunday, November 5.
The officers tried to stop the vehicle but the driver sped off, prompting a chase that ended with the green minivan crashing into a Metro bus at the intersection of Main and 17th Streets.
LAPD says the gun was recovered.
First Update: Los Angeles, California (November 5, 2023) – Authorities have confirmed a second person died at the hospital after a crash early Sunday morning in downtown Los Angeles.
According to the Los Angeles Police Department, the crash occurred at around 5:11 a.m. in the 100 block of East 17th Street.
A police pursuit caused a minivan to crash into a Metro bus.
One person was pronounced at the scene. Three others were transported to a hospital for treatment, where one of them died while receiving treatment.
An investigation is ongoing.
ORIGINAL STORY
Los Angeles, California (November 5, 2023) – One person was killed and another critically injured when a police pursuit ended in a crash in downtown Los Angeles early Sunday Morning, according to a report by the Los Angeles Fire Department.
The incident happened in the 100 block of East 17th Street at about 5:11 a.m.
According to the report, a minivan driver was apparently evading the authorities when the minivan slammed into a Metro bus.
One person in the minivan was trapped and was extricated by the firefighters.
Authorities said one unidentified party died at the scene.
Three other patients were taken to hospital. One of the patients was critically injured while the other two had non-life-threatening injuries.
The bus driver, who was the sole occupant, declined to be transported to the hospital.
Fatal car accidents occur when an individual dies due to a traffic collision. Some common factors that cause such accidents include; weather and road conditions, car malfunctions like faulty brakes, and errors caused by motorists, such as weaving in and out of lanes. Whenever you lose a loved one through a fatal collision, seek legal help from experienced accident attorneys. Our attorneys will help you file a wrongful death claim against the responsible party.  Click to call : 866-803-6502 to contact the Pacific Attorney Group for all your legal needs.