Our Glendale Car Accident Lawyers Can Help You
Glendale is a city in LA County, California. It was incorporated in 1906 and is the 23rd largest city in California. It has a population of over 200,000 people. Glendale was honored in 2013 for being one of the best neighborhoods in America. With a city so big, there are a lot of different types of vehicles on the road. According to statistics from 2013, there were 3024 traffic fatalities in California. That does not include the many injuries sustained in an auto accident. If you were in a car accident, it's crucial you call a Glendale car accident lawyer.
Over three million people across the U.S. sustain serious injuries in traffic collisions every year. Some cities in the U.S. have been categorized as the most dangerous places for drivers. While Glendale, California, is by no means the most dangerous City in CA for motorists, it's certainly not the safest either. Over the last five years, 14,000 car collisions have occurred in Glendale. Many of these accidents happened it dangerous intersections such as Highway 134 (Sanchez Drive) and Brand Boulevard.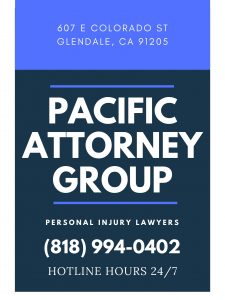 Victims of auto accidents and car accidents are vulnerable to sustaining a number of painful and debilitating injuries. If you or a loved one has been injured or involved in a car accident in Glendale, there are probably many concerns running through your mind: Am I going to be alright? How am I going to pay my medical bills? Will the insurance company cover any of my expenses? Who is going to pay for the damage done to my car?
Most Dangerous Intersections in Glendale
Highway 134 and N Brand Boulevard
Brand Boulevard and Goode Avenue
Colorado Street and Brand Boulevard
Honolulu Avenue and Lowell Avenue
Chevy Chase Drive and Glendale
Glendale Avenue and Wilson Avenue
Honolulu Avenue and Lowell Avenue
Chevy Chase Drive and Glendale Avenue
San Fernando Road Western Avenue
Verdugo Road and Colorado Street
Glendale Avenue and Broadway
Busy Freeways in Glendale CA
Glendale 134 Freeway
The 134 Freeway is heavily traveled by people living throughout Glendale, as well as by people in other areas such as Burbank, Studio City, North Hollywood, Pasadena, and the San Fernando Valley. In fact, many people in Glendale and these areas take the 134 Freeway as their main route when traveling west, or when heading to Downtown LA. Like any other freeway, the 134 Freeway is home to its fair share of accidents. 
Glendale 5 Freeway Accidents
Anyone living in Southern California knows how bad the traffic is. The 5 Freeway is one of the busiest freeways in the region, it being the main road that reaches from the Valley all the way to Orange County. In Glendale, the 5 Freeway intersects with several other freeways, including the 2 Freeway and the 134 Freeway. Due to this, there are many serious accidents that occur while vehicles attempt to merge or are navigating to get to another freeway.
Accidents on the 2 Freeway in Glendale
The 2 Freeway is one of the main highways running through Glendale. Furthermore, for people living in Glendale, the 2 Freeway is one of the main routes for traveling south toward Downtown LA. Like most other freeways in LA County, the 2 Freeway often becomes heavily congested during peak traffic hours. Whenever a freeway becomes highly congested, there is a much greater chance of an accident occurring. Even when the freeway is wide open there is still a possibility that an accident may take place.
Glendale Car Accident Lawyer- Defending the Victims of Preventable Car Accidents
At Pacific Attorney Group, an experienced Glendale accident attorney can sit down with you to answer these questions and discuss any concerns you may have. We have been handling car accident cases in Glendale for many years, such as those that take place on the 134 Freeway, 2 Freeway and 5 Freeway, and understand how to effectively litigate these types of cases and negotiate for the largest settlement possible.
Types Of Car Accidents
• Head-on Collision: When vehicles collide front-to-front. These are some of the most deadly crashes.
• T-Bone Collision: This is when one vehicle crashes into the side of the other one.
• Rear-End Collision: One car wrecks into the back of another one.
Victims of auto accidents have the right to be compensated for their injuries when the accident was caused by another person's recklessness or negligence. From our experience, the majority of auto accidents are caused by the following acts of negligence:
Drunk driving

Speeding
Falling asleep at the wheel
Running a red light
Running a stop sign
Talking on a cell phone while driving
Texting while driving
Reckless driving
Types of Vehicles Involved In Wrecks
All types of cars
Rideshare
Commercial Cars
Pick Up Trucks
Bus
Vans
SUVs
Trucks
Semi-trucks
Motorcycles
Types of Car Accident Injuries
At Pacific Attorney Group, we have represented many clients who have been injured in accidents. In addition to car accidents, we also have experience handling cases involving truck accidents, motorcycle accidents, drunk driving accidents, bus accidents, and uninsured motorist accidents that took place on the freeway. Like any other type of accident, victims of accidents on the 2 Freeway stand to sustain a number of painful and debilitating injuries, such as:
Brain injuries
Neck injuries
Broken or fractured bones
Burns
Organ damage
Spinal cord injuries
Internal injuries
Paralysis
Disfigurement
Permanent disability
• Head and Back Injuries: These are some of the most serious injuries that can happen. It is common for drivers and passengers to hit their heads during a collision. It can cause traumatic brain injuries. These injuries can range from concussions to comas.
Injuries to the spinal cord can cause nerve damage and paralysis. Herniated discs keep people in constant pain. The neck can get whiplashed and can also be quite painful. These injuries can be serious enough to put someone in a wheelchair permanently.
• Internal Injuries: It is not uncommon for people of traumatic car crashes to suffer from internal injuries. Some people have experienced cardiac arrest because of heart trauma. Any internal organ can be damaged in an accident. Victims can experience dangerous internal bleeding. Bones anywhere in the body can be cracked or broken. Muscles, tendons, and ligaments can be strained, sprained, or even torn.
• Cuts, bruises, and other lacerations can occur in a car accident.
A Glendale Car Accident Lawyer can help you against Uninsured Drivers
All drivers in California are required to purchase car insurance and keep their insurance current by renewing their policies at the necessary time. However, even though the law mandates that all drivers must carry insurance, there are still thousands of motorists throughout the Glendale area who are uninsured.
This is an issue, especially when a driver with insurance is involved in an auto accident with an uninsured driver. After an accident, car insurance is used to cover both property damage and medical expenses for injuries that were sustained in the accident. When one driver is without insurance, it complicates the situation for all drivers involved in the collision.
If you have been injured in a car or auto accident with an uninsured driver, we can help. Many people involved in accidents with uninsured motorists give up hope that anything can be done. This is absolutely not the case!
When you come to Pacific Attorney Group, you will meet with an experienced Glendale personal injury lawyer who will review your case, advise you of your rights, and determine the best course of action to ensure you are fairly compensated for your injuries and property damage. We have a great deal of experience and practice in these types of auto accident cases and know effective methods and tactics for recovering some type of compensation
People who suffer from injuries in an auto accident need an advocate. When you have a Glendale car accident lawyer from Pacific Attorney Group, you can get the representation that you deserve. If you or a loved one have been injured in an accident, we will fight to get the money that you need. You do not have to suffer in silence anymore.
Contact a Glendale Car Accident Attorney
If you can successfully prove that your accident was caused by another person, negligence or recklessness, you will be eligible to recover damages for your property damage, medical bills, future medical expenses, lost wages, and pain and suffering. However, it can be difficult to prove fault and liability in a car accident case. At Pacific Attorney Group, we are familiar with many effective strategies and tactics for determining and establishing liability, even in daunting cases involving an uninsured motorist.
Not only will we take the time to investigate all elements of your case and any circumstances that could have contributed to the accident, but we will also speak with a credible witness who can provide valuable testimony. We are serious when we say we are committed to going above and beyond for our clients. We work diligently on behalf of each and every client and do not give up until we have successfully recovered a favorable settlement.
Car accidents can change your life forever. Were you or a loved one hurt in an accident? You can have a Glendale car accident lawyer fight for your rights. We will come to your house or even the hospital to offer you a free case evaluation. There is no money for you to pay for your consultation. We only get paid if you get paid. Call Pacific Attorney Group today for your accident injury claims. We have proven results. Contact us today at 1-818-351-1743.