Los Angeles Premises Liability Lawyer
Were you shopping at a retail store, walking through a parking lot, or eating at a restaurant when you were injured in an accident or other incident? Accidents and injuries on another's property may be covered by personal injury laws. Specifically, these are referred to as premises liability cases because they involve the liability (legal responsibility) of the party who owns and/or operates the premises (land or building) where the incident occurred. In California, property owners may be held responsible for injuries sustained by lawful visitors, if these injuries occurred due to negligent maintenance of the property.
Premises liability law can be complex, but at Pacific Attorney Group we have more than three-and-a-half decades of legal experience to apply to our client's cases. If you were injured on another's property, a personal injury lawyer at our firm can talk to you about your options in seeking compensation for economic and non-economic losses and injuries.
How Does Premises Liability Law Works in Los Angeles, California?
Los Angeles personal injury lawyers at Pacific Attorney Group are dedicated to helping people who have suffered accidents or have been injured on someone else's property through no fault of their own. We handle cases involving slips and falls, security negligence, and other injuries and accidents involving premises liability. Our team is dedicated to helping victims of such accidents throughout the Los Angeles metro area.
We have the experience you need to provide personalized service by assessing and addressing your specific needs in order to seek maximum financial compensation on your behalf. We attempt to hold negligent property owners accountable for their actions to help our clients receive monetary damages to help pay medical expenses, lost earnings, and other costs associated with the accident or injury.
We understand how premises liability laws work and have the experience and success in finding evidence to prove that property owners were at fault when our clients were using reasonable caution at the time of the accident or injury.
If you or a family member has been the victim of premises liability, you may be eligible to receive money for medical expenses, emotional damage, and other losses you may have suffered. Property owners are responsible for maintaining their premises and keeping it safe for visitors, which includes regular inspections for dangerous issues. When problems cannot be immediately fixed, they must erect signs warning of the potential dangers. If you believe you have grounds for a premises liability claim, an attorney at our law firm may be able to help.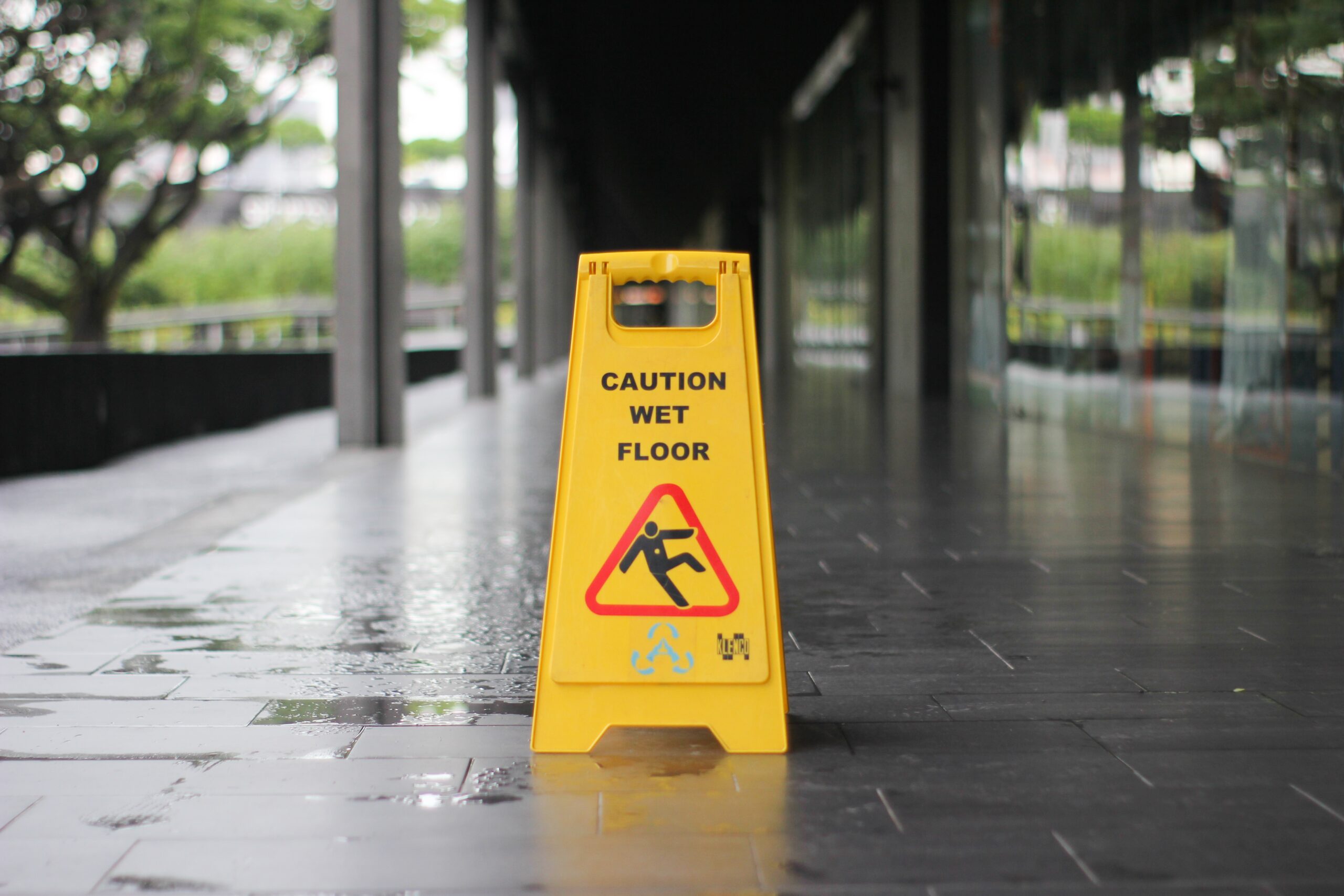 Accidents and Injuries on Another's Property
Premises liability encompasses a wide range of accidents or incidents that can occur due to negligence. Specific laws invoked often depend on the circumstance involved, but most claims result from lapses in ensuring that property grounds are reasonably safe and free from hazardous conditions that may cause injury to visitors.
Typical claims involve slip and fall accidents, construction accidents, assaults, and attacks due to inadequate, and daycare negligence. Other types of premises liability claims can result from injuries incurred in retail stores such as being struck by a falling shelf or tripping over an object or experiencing an injury from a faulty ride at an amusement park.
Slip and Fall Accidents: Slip and fall accidents are the most common source of premises liability lawsuits, involving situations where visitors slip and lose their footing, falling to the ground. This type of accident, though seemingly minor, can cause catastrophic injuries like broken bones, fractured hips, sprains, and head trauma.
Trip and Fall Accidents: An object in a walkway, uneven pavement or defective carpeting may cause a person to trip and fall. When property owners are negligent in maintaining their premises and a person trips and falls as a result, our attorneys stand ready to seek justice on the victims' behalf.
Escalator and Elevator Accidents: If you were riding on an escalator or elevator that malfunctioned, leaving you injured, the owner of the property may be responsible. Our team can investigate the matter to determine exactly what occurred and who should be held accountable.
Security Negligence: Depending on the type of property, the owner may have an obligation to provide reasonable security to lawful visitors. This may include security personnel, camera and video systems, gates, locks, and other measures. Inadequate security that leads to attacks, assaults, and other injuries may give way to premises liability lawsuits.
Slip and Fall Injuries- Our Los Angeles Premises Liability Accident Lawyer can help you
Did you know that a property owner may be held accountable for accidents and injuries sustained on his or her property? In California, property owners and managers have an obligation to provide lawful visitors, customers, residents and tenants with a reasonably safe environment. They should take necessary measures to maintain the premises to keep them free from hazardous conditions that could cause harm. This includes uneven walkways, broken stairs, slippery surfaces and more.
It may seem a minor incident at first glance, but a slip and fall accident can have catastrophic results. Broken bones, hip injuries, sprains and head trauma can result from slipping or tripping and falling. When accidents of this kind occur on another's property, the victim may be able to seek financial compensation for medical care and other expenses, losses or injuries the event has caused. These cases are generally referred to as premises liability claims or lawsuits.
The team at Pacific Attorney Group is committed to representing slip and fall accident victims. We handle premises liability cases on behalf of clients who have been injured at shopping malls, amusement parks, restaurants, nightclubs, retail stores, parking lots and other properties throughout Southern California. If you are interested in finding out what rights you have in this type of case, please call a injury attorney at our firm for a free consultation.
Why do Slip and Fall Accidents Occur?
Slip and fall accidents may have any of a number of causes, and fault may lie with the property owner or the victim. Visitors, customers and tenants should exercise reasonable care when walking through another's property. Property owners have an obligation of their own to provide a reasonably safe environment for those lawful visitors. If the manager or owner of a property does not take appropriate measures to inspect, maintain and repair the premises, this can lead to dangerous conditions that can involve even the most cautious visitor in an accident.
The following are examples of hazards that may lead to slip and fall accidents:
Freshly waxed floors
Wet floors, from spills or recent cleanings
Inadequate lighting
Uneven walkways
Broken or missing stairs or railings
Torn or raised carpeting or floor mats
What Obligations do Property Owners have towards Lawful Visitors?
While every case is different and liability may vary depending on the type of property, the accident itself and what the victim was doing at the time of the incident, there are certain scenarios where property owners may be held liable.
According to California Civil Code § 1714(a):
"Everyone is responsible, not only for the result of his or her willful acts, but also for an injury occasioned to another by his or her want of ordinary care or skill in the management of his or her property or person, except so far as the latter has, willfully or by want of ordinary care, brought the injury upon himself or herself."
Our legal professionals understand how California Civil Code § 1714 and other applicable laws apply to premises liability cases. We use this knowledge on our client's behalf to seek justice against negligent property owners and managers in slip and fall, trip and fall, security negligence, and various other premises liability lawsuits. To learn more, call a premises liability attorney for a free, confidential case review.
Escalator & Elevator Accidents – Our Los Angeles Premises Liability Accident Lawyer can help you 
Have you been injured in an accident involving an escalator or elevator? These motorized devices are convenient and helpful on a day to day basis, but improper maintenance or a defect can cause serious injuries. Our law firm can talk to you about your case and the injuries you have sustained. Should we work together on your case, our legal team will utilize the services of experts in how escalators and elevators should work, as well as medical and economic experts as well.
The following are incidents that may lead to injury:
When an elevator suddenly stops
An escalator that stops without warning, causing the victim to fall
A wet surface on or near an escalator, causes a slip-and-fall accident
An elevator that stops between floors or plummets
Any accident involving the metal teeth on an escalator, when clothing, fingers, or toes become caught in these
An elevator that stops and remains stuck for an extended period of time
We will work tirelessly to build a compelling case on your behalf, built upon physical evidence that proves the other party's responsibility for your injuries. Depending on the case, such as if it involves a slip and fall, we may be able to bring a lawsuit against the property owner, manager, maintenance company, or manufacturer of the elevator or escalator. An accident on an elevator or escalator may cause serious injury or may even result in death if the incident is serious enough.
Falling Object Claims & Lawsuits-Our Los Angeles Premises Liability Accident Lawyer can help you
Have you or someone you love been injured in a slip and fall or trip and fall caused by a falling object? Falling objects can inflict physical harm on innocent victims in retail stores, supermarkets, construction sites, government buildings, and other public places. Due to the trajectory of the falling object, victims most often suffer from head injuries and traumatic brain injuries, which are both very serious.
If you have been forced to deal with the repercussions of being struck by a falling object, either through your own injury or through a loved one's injury, you need to speak with Pacific Attorney Group to find out what your rights are and what kind of compensation you may be entitled to.
At our firm, we make it a priority to help injured victims of falling objects. Our attorneys understand what injured victims are forced to deal with after being struck by falling objects and it is for this reason that they work so diligently to get them the compensation they need to replace lost wages, pay for medical expenses, and compensation for pain, suffering, and emotional distress.
Helping Those Injured by Falling Objects
Business owners, managers, and government entities have a legal responsibility to anyone who sets foot on their property. When they fail to provide a safe environment that is free of hazards and dangers, and someone is hit by a falling object, whether it's a retail item that was being improperly stored on a shelf or a part of a building that was poorly maintained, they may be deemed liable for any injury caused by their negligence. A premises liability lawyer from Pacific Attorney Group will know exactly what to do to build a strong case in your favor to prove liability for a falling object to get you much-needed compensation for your injuries.
Determining Property Owner's Liability
The presence of a hazard does not necessarily mean that a property owner can be held automatically liable for a victim's injuries. The property owner must have acted negligently by failing to provide a proper amount of care in maintaining the premises. Some examples of situations that may constitute property owner negligence – and therefore liability – include:
Failure to properly clean or maintain walkways, stairs, or aisles.
Failure to post a "wet floor" sign if a floor has been freshly washed or waxed.
Negligence in cleaning up a spill or warning others of the hazard.
Failure to properly inspect property grounds.
Broken light fixtures or inadequate lighting.
Premises liability lawsuits involving slip and fall accidents will vary on a case-by-case basis. It will be necessary to fully investigate the incident to determine whether the property owner was negligent and if the victim was exercising proper care at the time of the incident. That is where investigators, expert witnesses, and support staff can make an impact on the strength of a case against a property owner. At our firm, we have the resources to properly investigate our clients' claims to build compelling cases on their behalf. We take on slip and fall and trip and fall accidents as well as incidents on escalators and elevators.
Trip & Fall Accidents- Our Los Angeles Premises Liability Accident Lawyer can help you
Have you or someone you love recently suffered the physical pain and humiliation of tripping and falling at a private residence, place of business or public property? Have you lost pay from missing work because of your injuries? Do you worry about how you are going to pay for your doctor bills and replace the wages you lost from missing work because of your injuries? If you answered yes to any of the above questions, you should know that a slip & fall attorney at Pacific Attorney Group would like to help you take legal action against whoever may be responsible for your trip & fall accident.
Every day, people trip over objects in their path and when they are injured because if this, it may be possible to file a claim for personal injury with the help of a lawyer. Trip & falls are the second leading cause of injury throughout the country and most of these are totally preventable but occur due to the negligence of another person, business or entity. When a dangerous & hazardous condition causes an innocent person to trip & fall, the victim may be entitled to compensation with the help of a slip & fall attorney.
Pacific Attorney Group Can Help
At Pacific Attorney Group, our lawyers represent individuals and family members who have tripped and fallen in commercial establishments such as supermarkets, retail stores, restaurants, malls. Owners and operators of these establishments often are responsible for a customer's trip & fall but proving liability in these cases can be tricky which is why you must have a trip & fall accident attorney from Pacific Attorney Group handling your case. They will examine all the aspects of your trip & fall accident in an effort to get you compensation for what you've suffered.
Were you injured on another's property?
Call 800.358.9617 to learn more about your rights.