Our Carlsbad Car Accident Lawyers Can Help You
After you've been in an accident, the Pacific Attorney Group is the first place to turn. Whether you've been involved in a car accident, collision with a tractor-trailer, or experienced slip-and-fall injuries, our Carlsbad legal representatives will provide compassionate and aggressive representation. We don't give our clients empty promises and pretty words, as we're driven to get you the most money for your claim. Get in touch with the Carlsbad car accident lawyer today and discuss your case. We have nearly four decades of experience, and our top-notch legal team is waiting to serve you.
We understand that this is a very confusing time in your life, and you need someone standing by your side throughout the process. Our lawyers are ready to put their legal knowledge to work for you. It's common to have questions and concerns as you navigate this process, so having a legal representative is imperative. The insurance company wants to pay as little as possible on your claim, and they will try to do everything in their power to keep from paying a dime. However, when you have a skilled attorney on your side, we know the games they play and how to win against them.
Carlsbad Car Accident Statistics
Every time you get into a car, there's a chance that you could be involved in an accident. An ominous fact came from a study conducted by Esurance. They found that people who get their driver's license by the age of 16 will have at least one accident before their 34th birthday. Shockingly, 77 percent of all drivers on the roadways have had at least one accident, which just demonstrates how commonplace collisions are on the thoroughfares. In the Carlsbad area, traffic can be a nightmare at times. While you might think that most accidents happen at night, a report by City-Data shows that over 42 percent of the accidents in this area happen in broad daylight. Statistics also show that at least 11 people a year lose their lives due to a fatal car crash in this part of the state, so you must be extra careful on the roadways.
Do you know the Dangerous Intersections in Carlsbad?
According to the California Office of Traffic Safety, 414 people were killed and injured in traffic collisions that happened in Carlsbad in the year 2019. Based on that number, Carlsbad ranked 55 out of 59 California cities with populations ranging from 100,001 to 250,000.
Alcohol was a significant factor contributing to these accidents. The city ranked number 5 in the category of accidents involving DUI drivers below the age of 21.
Notable Intersections in Carlsbad Where Accidents Happen Frequently
Below are the intersections where collisions, mainly those involving pedestrians, occur regularly.
Carlsbad Village Drive & Harding Street

Palomar Airport Road and Paseo Del Norte

Carlsbad Village Drive & Roosevelt Street

Carlsbad Boulevard & Hemlock Avenue

Grand Avenue & Roosevelt Street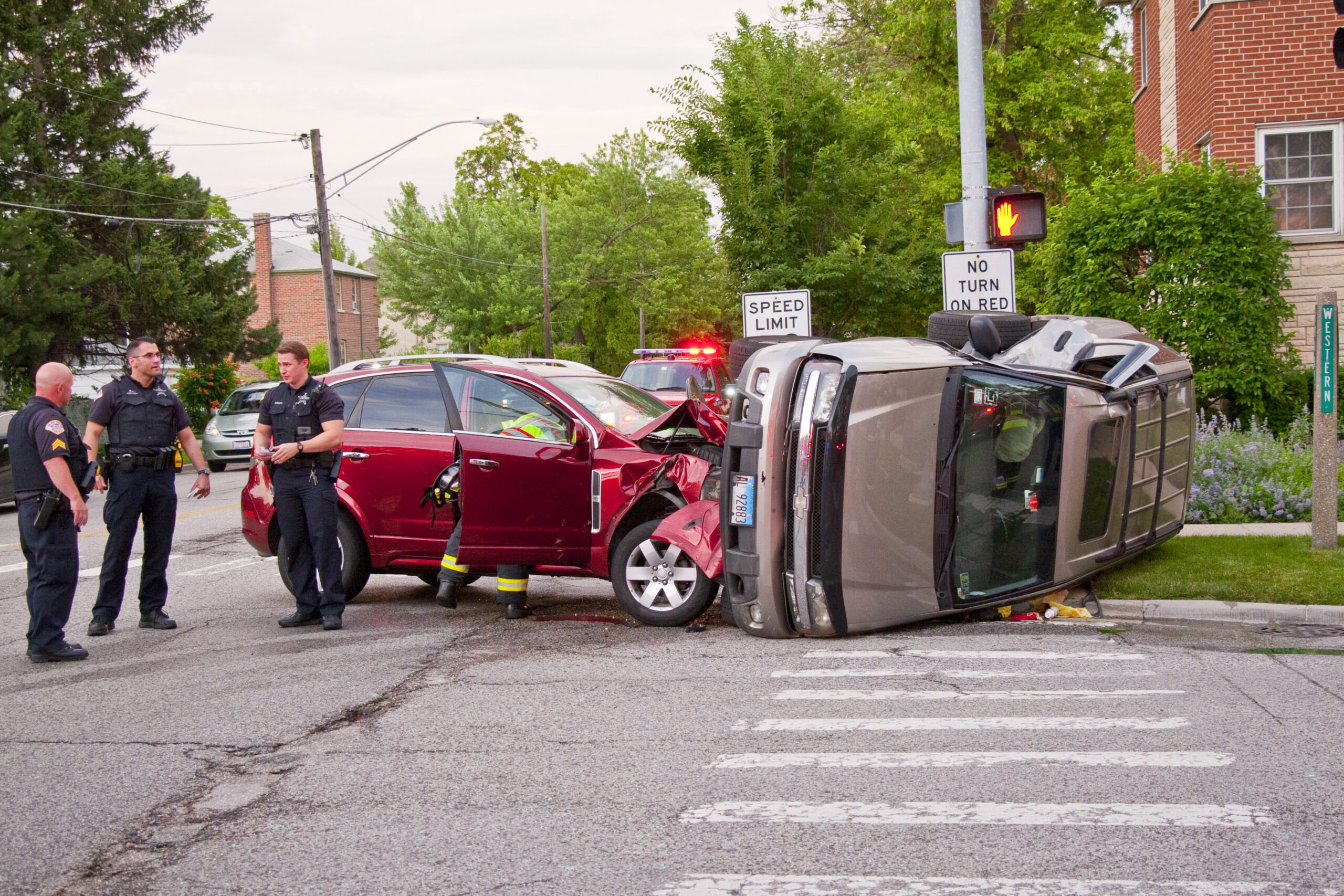 Causes of Car Accidents in Carlsbad Are Quite Common in All cases
The most common cause of accidents here and abroad is distracted driving. When you're texting, talking on the phone, eating, or just not paying attention, the chances of being involved in an accident skyrocket. The Insurance Institute for Highway Safety states that nine people will die every day due to distracted driving around this country.
The second most common cause of car accidents is speeding drivers. The speed limits are there for a reason, as they've been tested and tried by experts. Going at speeds above the legal limit puts you at significant risk of having an accident.
Is it really worth the extra few minutes you save by driving too fast? You not only put your life but the lives of others at risk when you don't obey the laws, and one lousy driving decision is all it takes to change your life permanently.
We know you have questions, and we have answers. Below are some of the most common questions we receive about personal injury claims. You can review this list and schedule an appointment to see a car accident attorney and evaluate your possible claim.
Why should you hire a Carlsbad Car Accident Lawyer after a Car Crash?
It's only normal to wonder if you should settle with the insurance company without using a lawyer. You've probably heard scary numbers like the lawyer will take one-third of the money you're awarded and other scenarios. The truth is that not every car accident needs a lawyer to defend you, so it's essential to have a consultation to see if your case warrants such representation.
When it comes to soft tissue or muscle damage where the claim is under $10,000, then it's probably something you can settle without using a car accident attorney. Dealing with things like surgery, loss of life or limb, extended times off work, and other serious matters almost always require an attorney to help. The insurance company will play games to try to lowball the compensation amount, but as a law firm, we know what you're entitled to under California law. We will fight aggressively to ensure you get the largest compensation package possible.
What Types of Compensations Are Available for Car Accident Claims?
You want to know how much your claim is worth if anything. It's usually the first question that potential clients ask. However, it's not easy to give a number without reviewing many aspects. Many factors go into the dollar amount of a case. Your legal team will divide your compensation package into two distinct categories, which are economic and non-economic damages.
Economic losses include medical costs, transportation to appointments, medical supplies, loss of wages, and the impact the incident has on your household finances.
The non-economic losses are things along the lines of pain and suffering. Things like emotional distress, loss of enjoyment of life, scars, and permanent injuries are in this category. We review all the damages caused to your economic position and emotional stance, and we put together a claim with the appropriate compensation amount.
Why Should I Hire a Carlsbad Car Accident Lawyer?
There are many reasons you need a car accident attorney on your side during a legal claim. First, you need the peace of mind that having representation can bring. Next, you'll have expert advice to know that you're making the right decision. Some other advantages include:
The collection of evidence
Evaluation of the claim and the allowable amounts
Representation during a trial
Negotiations of a settlement to keep from going to court
Emotional support
Did you know that the average car accident claims settle for $60,000 more than those who don't use legal representation? Another advantage is that around 95 percent of all personal injury claims are settled out of court. Only about five percent ever face a judge, so your chances of settling quicker and for more money are greater when you have legal representation.
What Should I Do After a Car Accident in Carlsbad, CA?
The most important thing to do after being involved in an accident is to make sure everyone is okay. In most accidents, police and EMS are called to help. Next, you need a medical evaluation. Even if you don't feel like you're injured, you still need to see a doctor.
Did you know that many injuries don't present until a couple of days after the incident, especially once the shock wears off? If you refuse medical treatment and tell the officer on the scene that you're okay, this can be used against you. Next, you should call your insurance company to report the accident and set up a rental car.
It's imperative that you don't make any statements to anyone about anything. The other party's insurance team will try to contact you for an official statement. Please don't give them any details, especially if you think you might be at fault. Refer them to your Carlsbad car accident lawyer, which you must retain immediately. Since the insurance companies can be unscrupulous in trying to get out of paying, anything you say will be used against you to downplay your compensation.
How to Prove You are not at Fault in a Carlsbad Car Accident?
The most valuable asset in proving liability is the police report. The officer on the scene makes an official report of the incident and what they observe. Any supporting evidence you have can also be helpful, which includes pictures. Don't forget to get any witness statements at the time of the accident, as these are valuable in a trial. Since the burden of proof is on you, you need a Carlsbad car accident lawyer to help you.
If you've been in an automobile accident where many cars were involved, it's a bit trickier. Basically, the goal is to find out who is the responsible party. Which driver was negligent that caused this accident? The insurance adjuster will look at the following information to decide:
Police and any other reports
Vehicle damage
Eyewitness accounts
Surveillance footage, if applicable
Value of the damage to the vehicles and property
Location of the accident, including stop signs, traffic lights, highway exit, and pedestrian involvement.
Situations – was a driver under the influence, distracted, eating, talking on the phone, or texting that caused this accident
The speed
Unassured clear distance issues
Weather conditions
Since fault isn't always apparent in these situations, you need a Carlsbad car accident lawyer to represent you. While the percentages of liability are a significant factor, you may still be entitled to some compensation. You most definitely need legal representation in these instances.
Types of Auto Accident Injuries
The most common type of injury we observe in a car accident is soft tissue damage. This includes whiplash, pulled muscles, and being sore from the trauma. Other commonly observed damages include:
Broken bones
Back/neck injuries
Head trauma
Chest injuries
Loss of life or limb
What to do after a minor car accident in Carlsbad?
You've just crashed with another driver, and you're confused, dazed, and possibly hurt. The first thing you need to do is call the police. Your local police team will create a report used for proof of what's happened. Next, you need to be medically evaluated.
Lastly, you need to contact your insurance company to let them know that you've been in an accident. You can work through your insurance company, and they will go back on the responsible party to collect any payments.
If the car is undrivable, it will be towed to a location where it can be evaluated by an insurance adjuster. If the vehicle is a total loss, the insurance companies will issue a payoff based on the loan's value. This part of the process doesn't require our representation, as it's separate from the personal injury aspects. You will proceed as you would do with any other accident where the insurance company helps.
What is the cost of hiring a Carlsbad car accident lawyer?
Hiring a Carlsbad car accident lawyer doesn't cost you anything out of pocket initially. Since we work on a contingency basis, we don't get paid unless you win. Our consultation is free, and all our work on your claim is of no cost to you. We ensure that we take cases we feel we can win. California allows personal injury attorneys to take a sum equal to 33.33 percent of your total claim, which is done when you're paid.
Who will pay for Cab Charges, If I Need to Get a Rental Car After a Car Accident in Carlsbad?
The at-fault party must ensure your rental vehicle is covered after the accident. However, they won't pay for this for an extended period. The insurance company will want to quickly settle this portion of your claim, as rental car costs are expensive. You will be covered until your car is deemed repairable or totaled, and you can always extend this rental out of pocket if necessary.
If it's totaled, the insurance company will issue payment to your or the lender for the replacement value, and the rental car coverage will cease. If your car is repairable, they will cover the rental car until the repairs are made, but usually not a day more.
Contact Pacific Attorney Group Now!
If you've been involved in an accident, the law states that there's a statute of limitation on how long you have to file your claim. You need to speak to a Carlsbad car accident lawyer immediately to see if you have grounds to seek compensation.
Remember, not every claim will end in a sizable settlement, but you're entitled to something if you're not at fault for the incident. Call us today at 1-800-358-9617 or fill out our contact form by clicking here.