Our Fullerton Car Accident Lawyers Can Help You
Fullerton is an ancient city whose establishment history dates back to the 18th century. With time, the city has seen advanced actuarial modifications of the old buildings making it beautiful mostly during the spring. Fullerton City is situated in northern Orange County in California. The current population stands at 139,151 with an estimated growth rate of 10.1% per year. Due to the increasing demand for people to travel using the road as a means of transport, the accident rate in the city has rapidly increased. An experienced Fullerton car accident lawyer can provide you with the best legal advice and help you navigate through the claim process easily.
Currently, about 15 fatal accidents have been reported with the accident claiming about 30 lives and leaving others disabled. These accidents have claimed a total of 10 pedestrians.
Importance of Fullerton car accident lawyer
During such unexpected situations, you critically need the services of a Fullerton car accident lawyer. Being one of the victims of an accident, you may suffer body damage and other bodily complications which require you to visit a health center for medical treatment. In the process, one incurs various costs ranging from consulting fees to medical services charges. Being a victim, do you have to pay all the medical costs?
The accident may be caused by a reckless driver whose actions put you in a situation you would not be in were it not for his negligence. If such happens, you stand to be compensated for the inconvenience. This is where the Fullerton car accident lawyer comes in and stands for you in pursuit of justice on your part to prevail. The car accident lawyer ensures that you win the case and that you get your compensation as per your demands.
Car Accident Lawyer Fullerton ensures that he has all the detailed information and testimonials that may be required by the court from the previous hearings experience. The lawyer is well-equipped with insurance law and can handle your insurance company and ensure that the company does not go against its obligations as stipulated in the contract. The lawyer knows how to bargain the deal and pushes the insurance company to obey their obligations on time.
Various types of Auto accidents
Various types of auto accidents occur on the roads.
First is the car accident. This type of accident involves personal cars with a maximum carriage of four individuals. Due to the increased number of individuals owning this class of vehicles, many cases involving cars have been reported. If you own a car, it is better to secure your vehicle as well as yourself in the case of such an occurrence.
A truck accident is another type of auto accident that involves a truck. Mostly, trucks cause fatal accidents as they carry heavy loads but mostly happen on transit roads. The other type of accident is sports utility vehicles (SUVs) related although due to their four-drive capability, the accident level is low.
Types of accidents and injuries
Most accidents happen from rear-end collision which is caused by the driver behind you knocking the car from behind. This type of accident is not much fatal but damages one's car. For this, you may demand compensation to repair, or if the degree of hit is destructive, you may ask for a new car. The individuals in the front car may suffer backbone injury, neck break, or both.
The next type of accident is a T-bone accident which occurs when a car strikes the side of the other car. This kind of accident takes place in intersections and is fatal as it may directly hit the person sitting on the edge of the strike.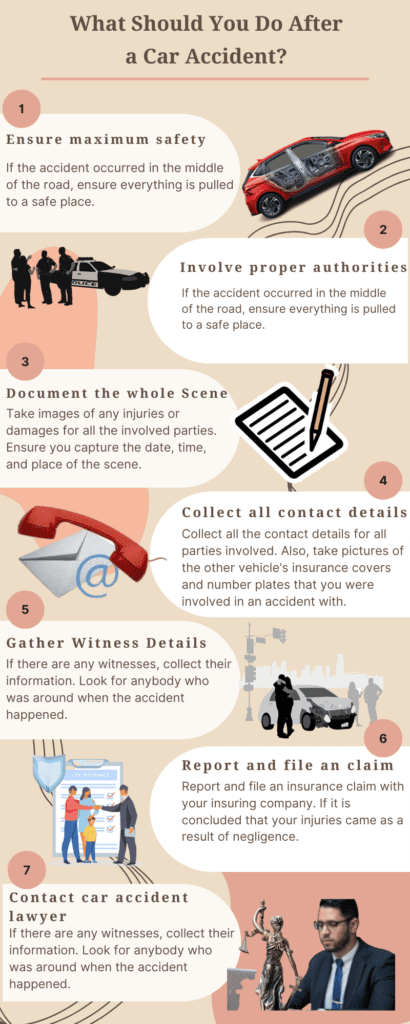 An accident is an unavoidable circumstance that occurs when you least expect it. For this reason, the Pacific attorney group has opened offices close to you to ensure they serve you in your comfort. You don't have to walk all the way to the offices, call us today and expect free consultations from an experienced Car Accident Lawyer Fullerton who will guarantee you a win-win situation in your accident claims.