Our Irvine Car Accident Lawyers Can Help You
Irvine is a master-planned city in southern Orange County, California, United States, in the Los Angeles metropolitan area. The Irvine Company started developing the area in the 1960s and the city was formally incorporated on December 28, 1971. The 66-square-mile (170 km2) city had a population of 307,670 at the 2020 census, it is the 63rd most populous city in the United States. If you or your loved one has been injured in a car crash then speak with our Irvine car accident lawyer for help. We will fight for your rights and to get the compensation you deserve.
Where Do Most Auto Accidents Happen in Irvine, CA?
According to the US Census Bureau, there are more than 3.12 residents in Orange County. Also, the Californian Department of Motor Vehicles shows that there are more than 2.20 registered motor vehicles in the county. Combined with other vehicles like trucks, tractors, and trailers, the number nears 2.8 million vehicles on Orange County roads. With a large number of vehicles and passengers on the road, vehicle accidents occur daily in the county, especially in Irvine City. Some of the well-known black spots in the county include Oceanside Drive and El Camino Real intersection, Huntington Beach, Riverside, Santa Ana, Costa Mesa, and Garden Grove, among others. An Irvine Car Accident lawyer can help you dispute your claims.
2019 NHTSA Statistics for Orange County & Irvine City
180 people died and 17,542 others were injured in the more than 12,394 motor-vehicle accidents that happened in Orange County. As per the report, 885 of these crashes happened in the city of Irvine, where 10 people died and 1240 others were injured,

Anaheim was found to be the city with the most accidents in Orange County. A total of 2,345 traffic accidents were reported, claiming the lives of 22 people and causing injuries to 3,458 others.

Ortega Highway (State Route 74) which stretches from the I-5 in San Juan Capistrano all the way to Riverside was determined to be the most dangerous road in the County. Two people died and 66 others were injured in traffic collisions on the highway.

About 5.43% of the victims of traffic accidents in the county sustained severe injuries while 32.98% of the victims had visible injuries. The majority (60%) had complaints of pain.

Truck drivers were involved in about 354 traffic crashes reported in the county, where 18 people were killed and 461 others were injured.

823 motorcycle-related accidents occurred in the county, causing the deaths of 35 people and resulting in injuries to 885 victims.

More than 700 pedestrian accidents were reported in the county where 54 people were killed and 728 others were injured. Pedestrian accidents, therefore, accounted for more than 30% of the total traffic fatalities.

According to a 2019 DMV report, there were nearly 2.94 million registered motor vehicles and more than 2.35 million licensed drivers in Orange County.
According to Allstate America's Best Drivers Report of 2019, the City of Irvine was ranked as the 164th safest city in the US. The report gives an in-depth examination of insurance company claims data to determine the likelihood that drivers in America's 200 most populous cities will experience a vehicle collision compared to the national average. While the average driver in the U.S. will experience a collision once every 10.57 years, drivers in Irvine will experience a car accident at least once in 7.5 years.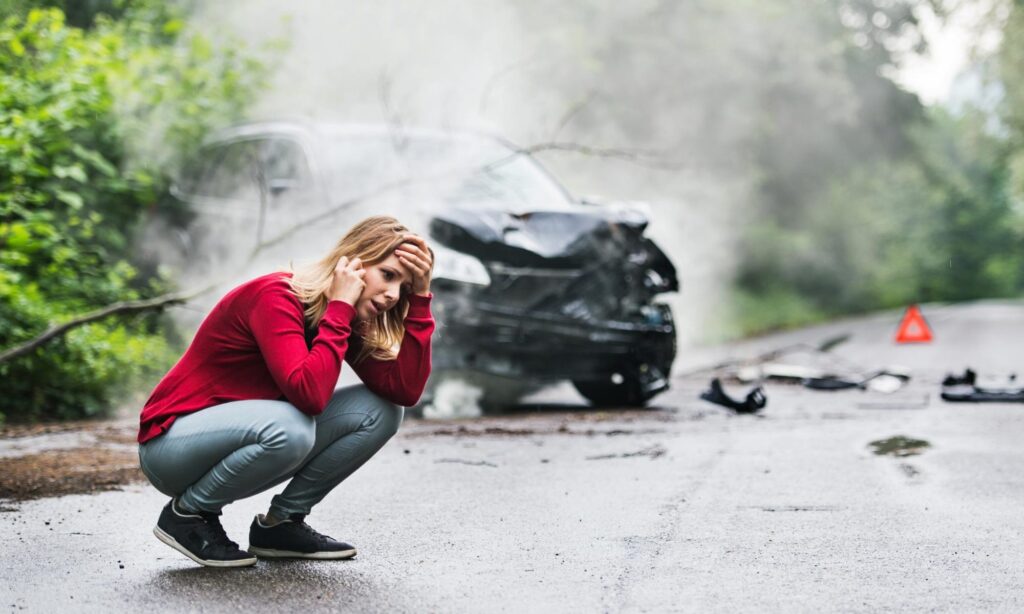 Common Car Accident Injuries
The National Highway Traffic Safety Administration (NHTSA) shows that there are more than 2.9 million people injured annually in auto accidents across the United States. The different forms of injuries resulting from vehicle crashes can be as different as the various collision circumstances. Although, some injuries are very common in all car accidents. Some injuries can resolve even without any medical treatment, while others can persist and even lead to permanent disabilities.
Here are the most common types of auto accident injuries
Soft tissue Injuries- This is an injury to the body's connective tissues, including muscles, tendons, and ligaments.
Cuts and scrapes- When an accident happens, many loose objects are thrown away. Some of these items include phones, coffee mugs, and computers, among others. In case these items hit your body, they can leave it with some skin injuries.
Head Injuries- These are most common in all types of accidents. They can be minor or major.
Chest injuries- These types of injuries take the form of bruises or contusions. They can also be more severe, leading to internal bleeding and broken ribs.
Limb Injuries- If your car suffers a side impact, your upper and lower limbs can be thrown very hard on the doors of your car. As your limbs are free, they can easily get stuck between metal frames or other parts of your car. High impacts can also lead to limb breakages.
What are the Common Causes of Car Crashes?
An experienced Irvine car accident lawyer is well aware that accidents happen daily. Some of the common causes include:
Drunk Driving: Although there are very strict laws governing drunk driving, many drivers still get behind the wheel after some drinks. Alcohol can highly delay a driver's reaction times which can easily lead to an accident.
Distraction: Drivers who engage in talking, applying make-up, calling, texting, or even reading can easily cause an accident.
Speed: Many drivers cause accidents as a result of going over the legal speed limit.
Bad Road Conditions: Whether it's roads that are not in order or weather conditions, bad road conditions can easily cause a vehicle accident.
While driving, we can't anticipate being involved in a car accident. If you bump into a negligent driver, a car accident is imminent. What matters now is ensuring you're compensated fairly for the damages incurred.
What Should I Do After a Car Accident?
The bitter truth is that accidents are part of life. But what should you do whenever you meet yourself in this situation? You are supposed to follow a specific protocol whenever you are involved in a car accident. Follow the below Irvine car accident lawyer steps whenever you are involved in an accident in Irvine City or Orange County as a whole.
Ensure maximum safety. If the accident occurred in the middle of the road, ensure everything is pulled to a safe place.
 Involve proper authorities. If you are thinking of filing a claim, ensure that you file a police report. Contact an ambulance to help you rescue the injured.
Don't admit Liability. Even if you think you're the one in the wrong, don't admit it.
Document the whole Scene. Take images of any injuries or damages for all the involved parties. Ensure you capture the date, time, and place of the scene. You can use your phone to take a screenshot which will help in saving time and data.
Collect all the contact details for all parties involved. Also, take pictures of the other vehicle's insurance covers and number plates that you were involved in an accident with. If the partner is cooperative, you can also gather their contact information.
If there are any witnesses, collect their information. Look for anybody who was around when the accident happened. Gathering their information is vital for claim investigations.
Report and file an insurance claim with your insuring company. If it is concluded that your injuries came as a result of negligence. Then you will be compensated for your lost income, medical bills, and injuries, among others.
Contact an Irvine car accident lawyer to help you file your injury claim. Ensure your Irvine car accident lawyer is well-experienced in the field. Car Accident Lawyers at Pacific Attorney Group can help you reap the maximum possible compensation for your losses.
Compensation for Injuries
The worst consequence of a car accident can be a wrongful death. More frequently, they result in a variety of injuries such as whiplash, broken bones, spinal cord injuries, and even traumatic brain injuries. You can face not only immediate hospitalization and medical costs but future care and treatment as well. Vehicle replacement is commonly required and there can be a period of time in which you are not able to work. These factors can bring about extremely high costs through no fault of your own.
It is important, therefore, to quickly contact us if you or a loved one has been injured. We fight for the rights of our clients to fair compensation for their injuries. Thorough investigation and documentation of the true cause of the accident and those responsible can result in forcing insurance companies to do what is right on behalf of our clients.
What Types of Compensation Are Available for Irvine CA Car Accident Claims?
In Irvine, CA, if you've been involved in a car accident, you can claim both non-economic and economic damages from the negligent driver's insurance policy. The economic damages can be quantified in terms of financial losses such as lost wages and medical bills. The non-economic damages cannot be quantified easily, including pain and suffering. Some of the types of compensation available include:
Lost Wages
A car accident victim is eligible to recover the funds they have lost in terms of lost wages. Suppose you were severely injured in a car accident and cannot provide for your family. In that case, you'll undergo a significant amount of stress, especially if you are living from one paycheck to the next. For those who have succumbed to permanent disability, it is possible to claim future wages since you can no longer work after being involved in an accident.
Medical Expenses
After an accident, you need to seek medical attention. The recovery period is dependent on the severity of your injuries. If you experience trauma, you may need to undergo rehabilitation. You should be reimbursed for the current and future medical expenses since you may undergo more corrective surgeries. Your Irvine car accident lawyer will liaise with your doctor, and together they can determine the amount of money needed to cater to your medical expenses currently and in the future.
Property Damage
If your car was damaged because of another person's negligence, you should be compensated. The damages can include repairing or replacing the vehicle depending on its damage. After the accident, you should get an accurate estimate of how much money will be needed to repair the car. The estimated quote is supposed to be enough to cater to the repairs.
Pain and Suffering
After the accident, you need to seek compensation for the suffering you've experienced. The funds should be compensated for physical pain and depression. It is difficult to issue an estimate for pain and suffering, and insurance companies usually try to limit the amount they pay for non-economic damages.
Why Should I Hire an Irvine Car Accident Attorney?
There are numerous reasons why you should hire an Irvine car accident lawyer, and some of them include:
1. Representation in Court and Insurance Negotiation
Insurance firms usually deny claims or offer to pay less than what the total claim is worth. An Irvine car accident attorney understands the information that will help increase the chances of winning the personal injury claim. The attorney can appeal and ensure justice is served if the claim is denied. Before proceeding to court, the insurance company will issue a monetary settlement. The main issue arises when the insurance firm wants to underpay the client.
2. Assessing the Value of the Claim
What is the claim worth? The total amount is not only based on lost wages and medical expenses. Without knowledge of claim evaluation, you may end up quoting a low or high figure. If you quote a very high or low amount, your chances of winning the case will be lower, and you may end up catering to some expenses from your pocket. To be compensated fairly, hire an Irvine car accident lawyer. The lawyer will assess everything, and they will issue an accurate figure for the claim. They will factor in everything, including the expenses you have incurred and the pain and suffering you have endured.
3. In-depth understanding of the Law
There is a high likelihood that you don't know the laws about your current situation, of which the main focus is on car accidents. An experienced Irvine car accident lawyer can easily establish all the laws relevant to car accidents in the state while also providing an in-depth understanding of these laws, and they understand how the local court will interpret everything.
Instead of conducting in-depth research, you can focus on recovering from the wounds you incurred after the accident. If you file a claim, you should also be prepared to handle a lot of paperwork, and the amount of time you have is limited. However, if you have hired an Irvine car accident lawyer, there is no need to worry about the paperwork since they will handle everything on your behalf.
4. Proving Your Injuries
If you want to be compensated for your claim, you need to prove that you sustained some injuries during the accident. Nonetheless, you cannot show scars or broken limbs. So, how will you prove to the judge that you were injured? You need to hire a reasonable Irvine car accident attorney, and they will carry out an investigation and gather all the necessary evidence to build a formidable case, and you can win the claim. The lawyer will interview witnesses, collect police reports, and reconstruct the entire accident scene to prove your case.
What Should I Do After a Car Accident in Irvine, CA?
After the car accident, you should pull over first. You should then take the following steps:
Secure the Children, Disabled People, and Pets
Call an ambulance and law enforcement officials
Engage the Other Driver
Avoid making any deals
Collect any significant information
Initiate an auto insurance claim
How Do I Prove the Other Driver was Liable?
Some of the ways to prove that the other driver was at fault for the accident include:
1) Take Photos
Currently, our mobile phones have cameras. You should take pictures of the accident since you'll use them later to support your claim in court. Take photos of the weather conditions, the road, the entire accident scene, and any other thing you may deem helpful. If you've been injured, go ahead and take photos.
2) Contact the Police
Contact the police and ensure they have arrived at the scene of the accident on time. Afterward, ensure you have obtained a copy of the police report since it may contain information that will help find fault. The police report also comes in handy as you file the insurance claim.
3) Engage Witnesses
If there is anyone who saw the accident take place, you should go ahead and take their statement. Also, ask for their contact information if possible. The statement by a third-party witness helps convince the insurance company that you are not at fault. If you hire an Irvine car accident attorney, they can help interview the witnesses since they can ask the right questions.
Types of Injuries from an Auto Accident
Some of the injuries you can expect after an auto accident include:
Spinal cord injuries
The car accident's impact could result in long-term disability if you
incurred spinal cord injuries
. Any damage to the spinal cord usually results in total or partial paralysis.
TBI (Traumatic Brain Injury)
The brain can be damaged due to a blow to the head or a piercing injury. Many people usually die due to TBI annually, and some usually have long-term disabilities.
Back Injuries
The spine and human body have not been designed to withstand heavy impact, and back injuries can result from car accidents. Back injuries can show up later after the accident. The pain you'll experience as a result of back injuries is severe and can last for a long.
Burns
What should I do immediately after an accident in Irvine?
Immediately after the accident, you should:
Ensure all the passengers are accounted for.
Contact the police.
Seek medical attention.
Document the accident.
Contact your Irvine car accident attorney.
Should I File a Lawsuit to Claim Damages?
After being involved in a car accident, should you file a lawsuit or not? For starters, to file a lawsuit, you need the services of an Irvine car accident lawyer. At first, you'll be given an offer by the insurance company; however, you cannot determine whether you're being under-compensated, which is where the lawyer chips in. An Irvine car accident attorney can help evaluate the damages against the offer by the insurance company. They will then advise you to take the offer or negotiate on your behalf. If both parties fail to reach a consensus, you can file a lawsuit with the help of your attorney.
How much will it cost to hire an Irvine Car Accident Attorney?
The amount of money a car accident attorney will charge varies between law firms. The lawyer first assesses the size and strength of the case before you can discuss the charges. In most cases, you'll be charged at least 40 percent of the total claim.
How do I handle my car-related issues after an accident?
Some of the steps you should take when handling car-related issues after being involved in a car accident include:
1) Contact a Tow Truck
You need to call a tow truck depending on your car's damage. The vehicle should be towed to a repair center. If you call law enforcement officials, they can contact the tow truck firm on your behalf.
2) Assess the Cost of Repairs
After taking the car to the repair center, the damages should be assessed and documented. Such information is important as you file a claim since you should be compensated accordingly.
If I need to get a rental car after a car accident in Irvine, who has to pay for it?
Anyone can get into an accident unexpectedly. Even when no one was injured, your car may have sustained some damage after the collision. Repairs are usually expensive and take time, and you may resort to using a rental car. Who will foot the bill for the rental car? The answer is dependent on whether the fault has been contested and who is at fault for the car accident.
If Another Driver is at Fault
If the accident was caused by someone else, the insurance firm is supposed to cater to the cost of the rental car. You will notify the insurance firm of the accident and that you need a rental car while yours is undergoing repairs. If the claim is approved, the cost of the rental car will be included. The insurance company cannot pay for luxury cars. They will pay for a vehicle equivalent to the car being repaired. For instance, if you are driving a small sedan, you can rent a small sedan.
If You Were Responsible for the Accident
If you were the one responsible for the accident, you could get a car with the help of your insurance provider. In case you designed the car insurance policy, there is the probability you have been asked whether you want to include rental car coverage. And if you agree to the rental reimbursement, the insurer will cover the cost of the rental car. The insurer will limit the type of car you can rent, and the time you can keep it. There will be a maximum number of days the insurance firm will cover the rental car. If you need the rental car for prolonged periods, you may have to pay for it.
Has Fault Been Disputed After the Accident?
There are some disputes over fault and liability, and they usually stand between you and a rental car. For instance, if you have filed a claim and you're confident the other party is responsible for the accident and have requested a rental car, the insurance company won't approve the claim immediately. First, they need to carry out due diligence. If there is a dispute, it will take time to resolve. If there are issues, you should ask for assistance from the insurance company or pay for the rental car out of your pocket, and you may be reimbursed later when the insurance company of the driver who is at fault accepts responsibility.
How is fault determined in a multi-vehicle car accident?
In an accident, the fault is not always apparent, and it may be hard to determine who is at fault if multiple cars are involved. Some of the considerations put in place when determining who is at fault include:
Evidence at the accident scene
The police report
Eyewitness testimonies
The position of the cars at the accident
Records of past traffic accidents by the driver at fault.
Additional evidence can be in the form of video surveillance since it can provide the required data to prove who is at fault. The police and eyewitnesses are important when proving who is at fault. You should ensure an Irvine car accident attorney is also present since they can help prove who is at fault.
Irvine Car Accident Lawyer at Your Service to Fight Car Accidents in Irvine, CA
An accident can change your life instantly. Suddenly, an animal can date on the road, or a car can swerve on your lane without indication. Or maybe someone didn't give way, or they were sleep-driving. A car crash can leave you not only physically injured but also mentally ill after losing your loved ones. Most car injuries result in disabilities or fatalities. When you or your relative is injured in a car accident, you are entitled to compensation meant to ease your loss and help to restore some of what was lost. In the case of the Irvine, CA car accident, there's always a car accident lawyer Irvine on your side—the Pacific Attorney Group.
Should I Hire an Irvine Car Accident Attorney After a Car Accident?
Of course, car accidents can be very painful and cause lots of inconveniences. They can come with lots of paperwork, put you on the hook for large medication bills, and even make you miss your workdays. To do away with these inconveniences, turn to a trusted Irvine car accident lawyer with vast experience to play to your advantage. An experienced car accident lawyer has in-depth knowledge of the subject matter along with the technical issues that might arise along the way. At Pacific Attorney Group, we always take cases on contingencies—you aren't required to pay even a coin unless your case is successful. We aggressively fight for our clients to ensure that they get maximum compensation for their losses.
Damages Available to Car Crash Victims
Have you or your relative been involved in a car accident in the larger Orange County or specifically in Irvine, California? At Pacific Attorney Group, we understand that injuries from accidents can be devastating to your life and the ones you live. An accident can make you miss your work, suffer lots of physical losses, and accumulate huge medical bills.
Accidents are a result of negligence by a certain party. Any injury that comes as a result of negligence is eligible to receive not only some top medical benefits but also financial compensation under the Californian motor vehicle accident law. You need expert help from well well-experienced Irvine car accident lawyer who will ensure that you are warmly compensated.
Call Irvine Car Accident Attorney at Pacific Attorney Group
To discuss filing your vehicle accident claim today, contact car accident lawyer Irvine, CA Car Accident Lawyers at Pacific Attorney Group. We will ensure that you obtain maximum financial compensation and medical benefits for yourself or your loved ones
The unfortunate result of negligent driving can be a car accident that changes your life and the lives of your loved ones for years to come. Following a collision, you may have pressing medical issues to resolve and don't want to concern yourself with insurance companies and others who can be involved. An experienced Irvine car accident lawyer from our firm may be able to help you during this tough time. We use our experience to ensure that insurance companies and others provide proper compensation for the victims of car accidents.
Our Irvine Car Accident Lawyer at Pacific Attorney Group Can Help You
At Pacific Attorney Group, we help car accident victims who have been injured due to the negligence of others. The most common causes of car accidents, according to the National Highway Traffic Safety Administration (NHTSA), are distracted drivers, driver fatigue, speeding, driving while intoxicated, aggressive driving, and the weather. Distracted drivers include those who are talking or texting on cell phones, changing the radio channel, and other things that cause a driver to take his attention off the road. The vast majority of these accidents could have been avoided if the driver had been paying attention.
Your full recovery is at our heart. We will never leave you in the middle of the process. And also bring back the lost glory by making sure that we seek the fairest compensation for you. We cover a wide range of car accident claims, including the ones involving self-driven cars, taxis, commercial vehicles, and tractors. Our team will leave you up and standing with fair financial compensation and peace of mind.