Our Bakersfield Car Accident Lawyers Can Help You
If you're looking for personal injury lawyers in Bakersfield, California, USA, there are plenty of options for working with local firms. We are passionate about helping accident victims get the compensation they need and deserve to heal their emotional and physical wounds. Our expertise will ensure that you receive every penny you're entitled to on time. Our dedicated car accident lawyers in Bakersfield will work hard on your behalf to get you the maximum compensation for your injuries and losses. Bakersfield car accident lawyer will also put in the time necessary to properly document your case, fighting for you so that you can get justice, no matter how long it takes.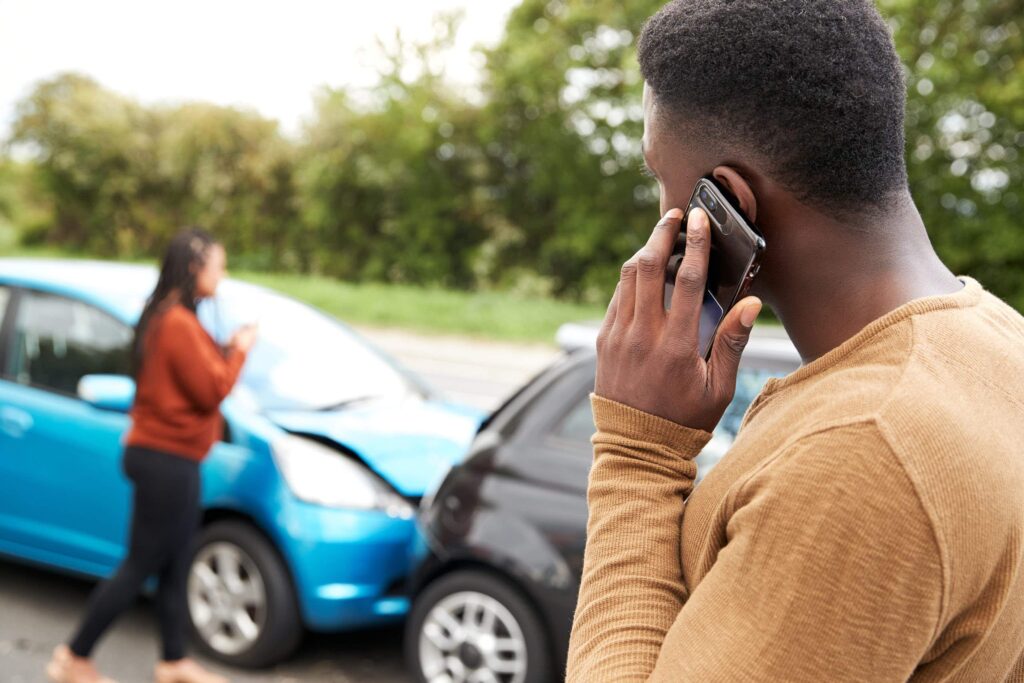 Accident Prone Intersections in Bakersfield
According to SafeTREC's Transportation Injury Mapping System data, 4,469 crashes occurred in Bakersfield from 2019 to 2021. These collisions killed 132 people and injured 6,726 others. Most of these accidents happened at busy intersections surrounded by busy commercial buildings with a significant number of vehicles and pedestrians. As per the data, unsafe speed, DUI, and violating the Right of Way were the three top factors contributing to these accidents. The following intersections in Bakersfield are among areas in the city where traffic collisions are likely to happen more often.
California Avenue at Baker Street

California Avenue at Business Center Drive

Union Avenue at California Avenue

Stockdale Highway at Village Lane

4th Street at Union Avenue

Columbus Street at Mount Vernon Avenue

Golden State Avenue at F Street

H Street at Brundage Lane

Stockdale Highway at Calloway Drive

H Street at Planz Road
According to Allstate America's Best Drivers Report of 2019, Bakersfield was ranked as the 82nd safest driving city in the US. The report gives an in-depth examination of insurance company claims data to determine the likelihood that drivers in America's 200 most populous cities will experience a vehicle collision compared to the national average. While the average driver in the U.S. will experience a collision once every 10.57 years, drivers in Bakersfield were likely to get into a car accident at least once in 9.4 years.
What are the Types of Car Accident Injuries?
There are several injuries you can sustain in an auto accident. These include:
Brain damage: You may have sustained a brain injury, which can have long-term effects and even cause death. Any traumatic brain injury suffered needs to be reported and treated immediately.
Neck injuries: Your neck may have been injured and could cause problems moving your head and other related injuries.
Spinal cord injuries: You may have suffered a severe spinal cord injury that can cause permanent paralysis or loss of control over body movements in your neck, arms, and legs.
Lower back injuries: Your back may have been injured, causing pain and damage to your spine.
Arm injuries: Your arms may be injured, especially if you're unable to move them as freely normally.
Leg injuries: You may be unable to walk after an accident due to leg injuries sustained.
Headaches: You might experience a severe headache after an accident that causes a lot of pain. These need medical attention right away so that they don't worsen or cause permanent damage to your brain or skull bones.
Psychological trauma: If you're left with severe injuries after an accident, you might experience a lot of mental trauma that affects your daily life and well-being.
When Should You Hire a Car Accident Lawyer After a Car Crash in Bakersfield, CA?
Suppose you're involved in an accident with another driver and feel you're due compensation. In that case, you should contact a  Bakersfield car accident lawyer as soon as possible for a free consultation. Our professionals will work closely with you to ensure you understand your rights and fight for the best possible results.
It requires careful investigation so that one can appropriately document the injuries sustained in the accident. Our attorneys are highly trained lawyers passionate about their jobs for adequate representation. If we have a personal relationship with our clients, we'll be able to provide more personalized service. Contact us now to get started on getting justice for your injuries and losses.
Why Should You Hire a Bakersfield Car Accident Lawyer After a Car Crash?
Pacific Attorney Group is a Bakersfield car accident law firm dedicated to helping accident victims get the compensation they deserve. For over 14 years, we've worked with countless accident victims who have suffered severe injuries, ensuring we've always had their best interests at heart.
Our Bakersfield car accident lawyers will do everything to help you get the total amount you're entitled to so that you can start putting things back together. It includes medical bills and necessary expenses for your ongoing recovery. Should there be any special damages, our experienced firm will be here to help ensure your claim gets fully paid.
How Much to Expect from a Car Accident Settlement in Bakersfield, California?
An average car accident settlement in California is anywhere between $19,000 to $21,000. A car accident settlement amount depends on a lot of factors. If you've been injured in an accident, Bakersfield car accident lawyers are available to help you maximize your settlement amount as per the prevailing laws of the state. A car accident claim consists of four categories:
Medical expenses: This category refers to the documented medical expenses you've already paid. You can also include the future medical expenses you'll need to pay during your lifetime. It includes doctor visits, surgeries, and other expenses related to chronic disease.
Lost wages: If you've lost wages because of the accident, this is included in your claim. An experienced Bakersfield car accident lawyer will provide you with all necessary documentation to support these damages and any other losses related to the accident, such as pain and suffering.
Pain and suffering: You may also be entitled to compensation for pain and suffering & emotional distress that resulted from the car accident. It is a subjective analysis which means that it's up for interpretation by a Bakersfield car accident lawyer. You can also include the loss of your ability to participate in your hobbies, such as the ability to play golf again or participate in sports activities.
Punitive damages: If the other driver was reckless before the accident, you could pursue punitive damages. Determination will depend on whether or not the irresponsible behavior of the other driver resulted in your accident. Therefore, you need to prove that the other driver was reckless. It could include texting while driving, speeding, or drinking and driving.
What to Do If You Had a Minor Accident in Bakersfield, CA?
If you are involved in a minor or major car accident, you may be worried about handling the situation. You should follow these steps to get yourself in the best position possible.
Get to safety: Try to put yourself in a position where you're not in danger. If you can safely move your car out of traffic, do so. It would help if you did everything to get to a safe place. You might be injured and need medical attention, but you should first assess your injuries.
Call the Police:You should always call the police to report an accident. In many cases, the responsible party will not stay at the scene, so you may need to get a police report as evidence later on. Make sure you get a police report from the officer if possible.
Seek medical attention: You need to make sure you get medical attention as soon as possible. You may have sustained your injuries in the accident, and you should contact your doctor immediately to find out more about the injuries and how long you'll be out of work.
Contact a Bakersfield car accident lawyer: If other drivers are involved, you should contact a  Bakersfield car accident lawyer as soon as possible. Our professionals can help guide you through the legal process while ensuring that you receive everything you deserve, including financial compensation for losses such as property damage, medical bills, loss of income due to missing work due to injuries sustained in the accident, pain, and suffering.
Document the accident: Get photos of the accident site and your vehicle, and any relevant evidence you find at the scene. If there is any damage or bodily injury, take photographs and fill out first-aid reports. Any damage sustained in an accident must be documented and reported. It will help a Bakersfield car accident lawyer fight for you so that you can get everything you deserve for your losses and injuries.
Fill out a liability claim: This will help ensure that the other driver's insurance is correctly notified of the accident. It also helps show that the accident occurred and will be able to build a case against those responsible for negligence. It is something that Bakersfield car accident lawyers can do for you, so contact us at once if you've been involved in an accident.
How Do I Prove the Other Driver was Liable in a car accident in Bakersfield, CA?
There are several ways to show that the other driver was negligent. These include:
Eyewitnesses: If you have eyewitnesses who saw the accident happen, your chances of winning your case will increase. You can even get help from other vehicles involved in the accident and their passengers to prove negligence on behalf of the other driver.
Police report: If a police report is written, this helps add credibility to your case. The police have access to all relevant information regarding what happened to help piece together the evidence needed by a Bakersfield car accident lawyer.
Injuries sustained: Any injuries sustained are always good evidence to show negligence on behalf of the other driver. It can include medical bills, lost wages and pain, and suffering.
Speed of the vehicle: If the other driver's speed is conclusively proven to be excessive, this can help show that they were negligent.
Road conditions: The weather at the time of the accident, including any road conditions, can also be a factor that led to the car accident. A Bakersfield car accident lawyer will always display all relevant facts and evidence when arguing your case.
Traffic signs: If the other driver did not follow any traffic signs, you could consider this negligence on their part as well.
Lack of seatbelt: If the other driver wasn't wearing a seatbelt, this could be evidence against the other driver.
Traffic violations: If the other driver had any traffic violations on record, this could also be negligence.
What is the cost of hiring a Bakersfield Car Accident Lawyer?
You need not worry about the fees, Pacific Attorney Group works on a contingency basis. No fees, if we don't win. We work hard to cover up our costs, so you have nothing to lose. However, if you wish to know what different fees are involved if you decide to take your claim to the court, then let us brief you about that.
There are a few different legal fees that you can spend, and these include:
Your attorney: Your Bakersfield car accident lawyer is the one who gets in contact with all the other parties involved and builds your case with all of the evidence that will show negligence on behalf of the other party.
Jury trials: If necessary, a jury trial will be held to prove all of your case's facts and help with compensation for your damages.
Expert witnesses: Expert witnesses are hired to analyze what happened during an accident and determine how much it will cost to repair or replace any damage from either side.
Court fees: Court fees can be high depending on the area and your case needs; however, they are well worth it if you receive compensation for your losses.
How to file an insurance claim after a car accident in Bakersfield, CA?
Yes, you might be in pain and suffering from physical injury or emotional trauma after a car accident, but you still need to care for your vehicle. The documents required to make a claim include:
Copy of your insurance policy
Police accident report copy
Copy of your insurance policy
Signed Claim Form
Copy of the registration certificate of your car
Copy of your driving license
An estimate of the repairs
Medical receipts of physical injuries
Records of other expenses incurred
What is the Third-Party Claim Process in Bakersfield, CA?
You should follow the following steps for making a third-party claim:
1. Take a copy of the police report
2. Get a written and signed estimate of repairs for your car from an authorized service center
3. Get the registration certificate of the vehicle and the insurance card
4. File a damage claim form with your insurance company
5. Submit the claim application to your insurer
6. Call the police
7. Inform the other party that you are considering making a third-party claim
8. Testify against the other party on oath
9. File necessary affidavits with both parties regarding any injuries or property damage to them, including before and after the accident.
What happens if you are at fault in a car accident in Bakersfield, California?
The standard of fault in California is first to use the rules of negligence that are codified in the California Vehicle Code. The action that sets off this chain reaction can be either a negligent or illegal act. After you find negligence and have proven it, you need to prove that it was a proximate cause of the accident and damages. A proximate cause is where one party's actions were a direct cause without being too remote. The rule states that an action is too remote if there are intervening events between the negligent act and consequent injury.
You need to know your rights in a car accident, and that's only possible with a reasonable  Bakersfield car accident lawyer.
With all of the stress and confusion of an accident, it's easy to forget what you need to do and what you have to prove your case. A Bakersfield car accident lawyer can give you the necessary information to get the help you need, so don't hesitate to ask us for assistance.