Update: Tiger Woods Undergoes Surgery after Being Injured in Rollover Crash in LA
The chief medical officer at Harbor-UCLA Medical Center has confirmed that Tiger Woods is awake and responsive after undergoing surgery following the Tuesday morning crash in Los Angeles. "Mr. Woods suffered significant orthopaedic injuries to his lower right extremity that were treated during emergency surgery," said in a statement posted on the pro golfer's Twitter account.
— Tiger Woods (@TigerWoods) February 24, 2021
"(O)pen fractures affecting both the upper and lower portions of the tibia and fibula bones were stabilized by inserting a rod into the tibia," the statement read. "Additional injuries to the bones of the foot and ankle were stabilized with a combination of screws and pins. Trauma to the muscle and soft-tissue of the leg required surgical release of the covering of the muscles to relieve pressure due to swelling," he added.
Golfer Tiger Woods Hospitalized after Single-Vehicle Collision near Rolling Hills Estates in Los Angeles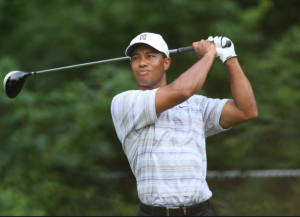 Los Angeles, California (February 23, 2021) – The Los Angeles Sheriff's Department has confirmed that golfer Tiger Woods was injured in a single-vehicle crash this morning in the Rolling Hills Estates area of Los Angeles.
Here is what you need to know about the crash
Tiger Woods was driving his Genesis GV80 SUV at the time of the crash.
The Golf Legend was driving down a winding road when he crossed the median, crashed into the curb, and overturned into a grassy area.
Woods suffered serious leg injuries in the crash and was not able to stand on his own, authorities said.
He was transported to Harbor-UCLA Medical Center where he underwent surgery.
No other vehicle was involved in the crash.
The rollover crash was reported at about 7:12 a.m. on northbound Hawthorne Boulevard near Blackhorse Road, on the border of Rolling Hills Estates and Rancho Palos Verdes.
The area where the accident happened is known as a trouble spot for speeding and accidents, the sheriff's department said.
Woods had to be extricated from the vehicle using the "jaws of life".
The authorities said Tiger Wood suffered serious leg injuries in the crash and was transported to Harbor-UCLA Medical Center for treatment.
"Tiger Woods was involved in a single-car accident this morning in California where he suffered multiple injuries and is currently in surgery" his agent Mark Steinberg confirmed.
Wood's fans and athletes from across the sports world are sending their well wishes and hoping for the best
Thoughts are with @TigerWoods and others involved, wishing a speedy recovery and I hope the injuries are not bad🙏🏼

— Ian Poulter (@IanJamesPoulter) February 23, 2021
Pull through @TigerWoods 🙏🏾
Thoughts and prayers for your full recovery and with your family and team. Heavy heart.

— Tony Finau Golf (@tonyfinaugolf) February 23, 2021
Former US presidents Barack Obama and Donald J. Trump also wished Wood's a quick recovery.
Sending my prayers to @TigerWoods and his family tonight—here's to a speedy recovery for the GOAT of golf. If we've learned anything over the years, it's to never count Tiger out.

— Barack Obama (@BarackObama) February 24, 2021
"Get well soon, Tiger. You are a true champion!" Trump said in a tweet shared by his spokesman and advisor Jason Miller
Trump sends well-wishes for 'true champion' Tiger Woods after car crash https://t.co/6XdlmjXfQc via @nypost

— Jason Miller (@JasonMillerinDC) February 23, 2021

More information about the accident was not immediately available.
The LASD Lomita Station is investigating the accident.