October 12, 2021
Driver Hospitalized after Santa Maria Collision at Old Dominion Road and Orcutt Garey Road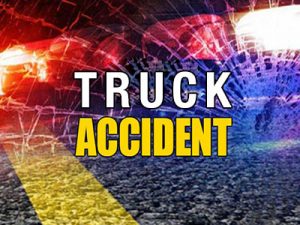 Santa Maria, California (October 12, 2021) – A driver was injured Monday morning in a traffic collision involving an oil tanker truck in Santa Maria, authorities said.
Just after 4:30 a.m. Monday, October 11, authorities received a report about the crash in the area of Old Dominion Road and Orcutt Garey Road.
As per the local news report, the oil tanker truck collided with a passenger vehicle at the intersection.
The impact caused the truck to overturn and slid into a ditch. The tanker ended up elevated and perpendicular to the road.
The cab of the truck caught fire, which spread to a nearby grove of eucalyptus trees and ignited approximately a quarter-acre. Firefighters responded to the scene and extinguished the blaze.
The driver of the car sustained moderate injuries and was taken to a local hospital. The driver of the oil tanker truck did not suffer any injuries.
California Highway Patrol and county firefighters stayed at the scene to assist with containing the oil leak and extinguishing residual smoke.
The crash remains under investigation.
Traffic Collisions in Santa Maria
Many factors lead to traffic collisions in Santa Maria, including bad road conditions, driving under the influence, distracted driving, ignorance of traffic laws, poor street lighting, and bad weather conditions, among others.
When you are involved in a traffic collision, you and your family may be forced to spend tens of thousands of dollars on medical bills, property damages, and maybe funeral services, while also enduring endless mental and emotional suffering.
Although the exact cause of the accident above was not immediately determined, the authorities will continue to gather more information, including witness statements to establish the cause of the accident. However, Pacific Attorney Group's managing attorney P. Mark Shayani believes that a separate and independent investigation into the crash is equally important. "A car accident attorney will investigate, research, and review every case thoroughly and explain to clients their rights and answer all questions to their satisfaction," he said.
Victims of traffic accidents have an enforceable right under law to full and fair compensation for the costs and losses they suffer. Whether they receive what the law provides for them or whether they receive any compensation at all depends on how well their attorneys can pursue their claims through the intricacies of the state civil legal processes.
California Auto Accident Attorney
If you have been involved in a traffic accident and got injured, it is important to get in touch with a litigator immediately for guidance. At Pacific Attorney Group, we specialize in personal injury and wrongful death lawsuits. We assist accident victims and their families to seek justice. Our attorneys will pursue the justice you deserve and will work hard to obtain fair compensation for your losses, injuries, and suffering.
If you have been injured in a motor vehicle accident or lost a loved one, contact Pacific Attorney Group today to talk to an experienced car accident attorney.Click to call : 866-803-6502