Man Killed in Modesto Pedestrian Crash at D and Ninth Streets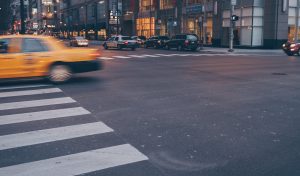 Modesto, California (March 25, 2020) – A man was hit and killed by a vehicle on Tuesday morning in downtown Modesto, according to the authorities.
The crash took place in the area of D and Ninth streets at about 11:40 a.m. March 24.
According to the report, a big rig with dual trailers was traveling southwest on D Street when it tried to make a turn into Ninth Street and a pedestrian walked across the trailers. The man was run over by the right-hand heels of the trailer.
Man Dies in Modesto Pedestrian Crash on D and Ninth Streets
The man died of injuries sustained in the crash. His name was not immediately released pending notification of the next of kin.
The driver of the truck was not aware that they struck a pedestrian. A witness followed the big rig and later contacted the authorities, who were able to locate the truck and questioned the driver.
The incident remained under investigation.
Pedestrian accidents may occur at any location where drivers and pedestrians are in the same vicinity of one another for instance in parking lots, streets or in rural areas, according to Mark Shayani. Shayani, an experienced wrongful attorney and managing attorney at Pacific Attorney Group, says that when a pedestrian is involved in a crash, he or she is at risk of suffering severe injuries or even losing their life.
Every family that lost a loved one in a pedestrian accident is entitled to a wrongful death claim.
Our attorneys will conduct an independent investigation to get to the exact factors that led to the accident.
If you have lost a loved one in an accident and you need legal assistance, contact a wrongful death attorney at Pacific Attorney Group. We will assist the families of the deceased to seek for justice. Our attorneys will leave no stone unturned in the pursuit of justice
If you would like a free copy of the police report, please contact the Pacific Attorney Group. Click to call: 866-803-6502.