Branden Finley ID'd as Bicyclist Struck and Killed by Vehicle on 7th Street at Olive Street in Los Angeles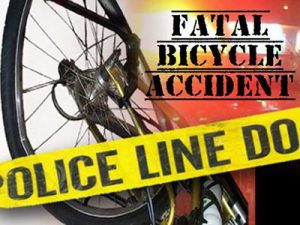 Los Angeles, California (January 17, 2021) – The bicyclist who died after being struck by a hit-and-run driver Saturday morning in downtown Los Angeles has been identified as Branden Finley, 46.
The deadly accident happened just before 8:00 a.m. Saturday, January 16 on 7th Street at Olive Street.
The incident began when the suspect approached a person who was making a newspaper delivery in the 900 block of Wilshire Boulevard and asked for a ride. When the delivery man refused, the suspect got into the pickup truck and started driving away.
The delivery man jumped onto the bed of the truck to try and stop him from getting away with the truck, but the suspect sped off at a high rate of speed.
The delivery man jumped off the moving vehicle a few blocks away and sustained minor injuries.
Witnesses told the authorities that the truck was driving at a high rate of speed on 7th Street, weaving in and out of traffic and traveling in opposite lanes of the road.
When the truck approached Olive Street, it struck Finley from behind. After the impact, Filley landed on the hood of the truck, and the driver continued before crashed into two other vehicles.
Paramedic responded to the scene and pronounced Finley dead at the scene.'
The suspect abandoned the truck and fled the scene on foot. A Surveillance video showed him taking off a blue hooded sweatshirt and putting on a white one.
Authorities said the suspect is 5 feet, 6 inches tall and weighing about 150 to 160 pounds. He was last seen wearing black pants and was barefoot.
A reward of up to $50,000 is available for anyone who provides information leading to the arrest of the suspect.
The accident remains under investigation. Anyone with information regarding the suspect's whereabouts is asked to contact detectives at (213) 833-3713 or [email protected]
If you lost a loved one in a traffic crash, call Pacific Attorney Group to request a police report on the crash. Click to call : 866-803-6502.