At Least 1 Injured in Sunol Crash on 680 Freeway near Mission Grade On-Ramp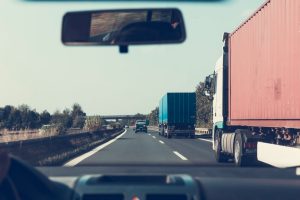 Sunol, California (March 15, 2019) – At least one person was injured in a traffic crash in Sunol Friday morning, according to the California Highway Patrol.
The collision happened at about 7:50 a.m. on the Interstate 680 Freeway near the Mission Grade on-ramp.
Semi Truck and Car Accident on 680 Freeway in Sunol
The CHP said for an undetermined reason a semi truck struck a black Nissan Maxima on the Interstate 680 Freeway. A third vehicle possibly involved in the wreck.
The force of the impact caused the Maxima to flip onto its roof while the wreck semi-truck came to a stop on the highway shoulder to the right.
Paramedics responded to the scene and rendered aid to an injured party.  The driver of the semi-truck was not injured in the accident.
It was unclear if the occupants of the Maxima or the third vehicle involved were injured.
The crash remains under investigation.
Pacific Attorney Group wishes the person injured a quick recovery.
Every year, several traffic accidents are reported in California. Unfortunately, accidents result in many fatalities and even more injuries. The causes of these traffic accidents range from distracted driving, speeding, drunk driving, reckless driving, bad weather, wrong-way driving and failure to observe traffic laws. It is evident that negligence on the part of motorists is the leading cause of these accidents.
If you or your loved one has been injured in a traffic accident due to another person's negligence, then the responsible party should be held accountable. At Pacific Attorney Group, our attorneys are highly skilled and have years of experience in dealing with such cases as personal injury, auto accidents, and wrongful death. To find out more, call us today for a free consultation.
If you are the victim or a family member and you would like a free copy of the police report, please contact Pacific Attorney Group at 1-800-358-9617.