Pedestrian Hospitalized after Hesperia Crash on Escondido Avenue and Main Street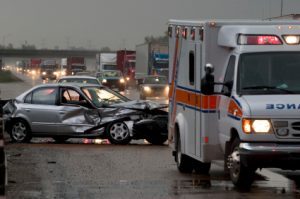 Hesperia, California (April 14, 2023) – A pedestrian on a mobility scooter was struck by a car Friday morning at an intersection in Hesperia.
The incident took place just before 11:00 a.m, at the intersection of Escondido Avenue and Main Street.
The pedestrian attempted to cross from the southeast corner of Escondido Avenue when a gray Dodge Journey minivan struck the Scooter and left the pedestrian to fall to the ground.
Firefighters and paramedics arrived at the scene and found the pedestrian lying on the ground.
The pedestrian was rushed to the hospital via ground ambulance for treatment of non-life-threatening injuries.
Additional information about the crash was not given.
The crash remains under investigation.