Margie Urrieta Among 3 People Injured in Temecula Crash on Interstate 15 near Temecula Parkway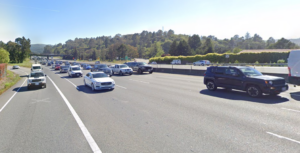 Temecula, California (May 4, 2021) – Margie Urrieta, 57, of Indio, has been identified as one of the three parties who were injured in Temecula, authorities said.
The major injury accident occurred at about 5:15 p.m., on May 2, on Interstate 15, just south of Temecula Parkway.
According to the California Highway Patrol, Rolando Neil Dominguez of Escondido was driving a 2016 Dodge Dart when it crashed into a 2014 Dodge Impala.
The collision triggered a fire and chain that additionally involved a Nissan Altima, Ford F-150 pickup and Jeep Cherokee.
Margie Urrieta Injured in Crash on Interstate 15
Urrieta, who was a passenger in the Impala, sustained major injuries in the accident and was hospitalized for treatment.
The 57-year-old Indio man driving the Impala suffered minor injuries in the accident.
Dominguez fled the scene on foot but was apprehended on the Temecula Parkway off-ramp. Dominguez suffered minor injuries, for which he was treated prior to being booked into the Murrieta jail.
An investigation into the accident is underway.
If you or your loved one has been injured in a car accident, call our law firm at Click to call : 866-803-6502 and talk to an accident attorney.