Los Angeles Serious Bicycle Accidents and Injuries Attorney
Los Angeles Bicycle Injury Lawyer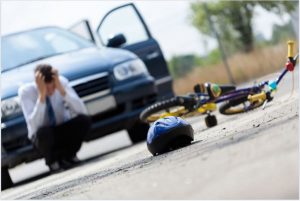 In 2008, 52,000 bicyclists were injured in traffic accidents throughout the United States (according to statistics compiled by the National Highway Traffic Safety Administration.) California ranked highest in all the states for the number of bicycle accident injuries, with 3,434. Why are bicyclists at risk of serious injury in the event of an accident with a motor vehicle? A bicycle is a lightweight, non-motorized vehicle that offers a rider no protection in the event of a collision. Because a motor vehicle is so much heavier and larger than a bicycle, the bicycle and rider will sustain the brunt of the impact and therefore the most damage. Brain injury, head trauma, spine injury, multiple bone fractures, and serious neck injury are all types of physical trauma a bicyclist may experience.
If you, a friend or a family member was injured in a bicycle accident anywhere in the greater Los Angeles area, our firm may be able to help. At Pacific Attorney Group, we represent clients in all types of serious injury claims, including those involving bicycle accidents and all types of motor vehicles. We welcome calls 24 hours a day, 7 days a week to our toll-free number: 1-800-358-9617. Don't hesitate to call us to schedule a consultation with an experienced Los Angeles Serious Bicycle Accidents and Injuries Lawyer as soon as possible.
Liability in Los Angeles Bicycle Injury Cases
Either a bicycle rider or a motorist may be held liable in a bicycle accident. Bicyclists must observe the same rules as motorists, including stop signs and signals, as well as lane markings. Motorists must also safely share the road with bicyclists, allowing at least 3 feet of clearance when passing a bicycle rider and yielding to cyclists at intersections just as they would yield to another car or truck. Drivers should watch for bicyclists before opening car doors or pulling out from parking spaces as well.
Were you seriously injured in a bicycle accident in the Los Angeles area? Contact a Los Angeles Serious Bicycle Accidents and Injuries Lawyer at our offices for a free consultation.JTNDaWZyYW1lJTIwc3JjJTNEJTIyaHR0cHMlM0ElMkYlMkZ3d3cuZ29vZ2xlLmNvbSUyRm1hcHMlMkZlbWJlZCUzRnBiJTNEJTIxMW0xOCUyMTFtMTIlMjExbTMlMjExZDQyMzI4Ni4xNzQ1MzA4NzQ0JTIxMmQtMTE4LjY5MTkxNzA2OTkwNjk0JTIxM2QzNC4wMjAxODEyNjQyNzgyNCUyMTJtMyUyMTFmMCUyMTJmMCUyMTNmMCUyMTNtMiUyMTFpMTAyNCUyMTJpNzY4JTIxNGYxMy4xJTIxM20zJTIxMW0yJTIxMXMweDgwYzJjNzVkZGMyN2RhMTMlMjUzQTB4ZTIyZmRmNmYyNTQ2MDhmNCUyMTJzTG9zJTJCQW5nZWxlcyUyNTJDJTJCQ0ElMjUyQyUyQlVTQSUyMTVlMCUyMTNtMiUyMTFzZW4lMjEyc2luJTIxNHYxNDY5ODY1NzAxNjcwJTIyJTIwd2lkdGglM0QlMjIxMDAlMjUlMjIlMjBoZWlnaHQlM0QlMjI0MDAlMjIlMjBmcmFtZWJvcmRlciUzRCUyMjAlMjIlMjBzdHlsZSUzRCUyMmJvcmRlciUzQTAlMjIlMjBhbGxvd2Z1bGxzY3JlZW4lM0UlM0MlMkZpZnJhbWUlM0U=
Do I Have A Case?
the initial consultation is free
Call or email us to schedule a free consultation. You can reach us 24 hours a day, 7 days a week. Our attorneys will travel to wherever is most convenient for you to meet and speak about your case.
.