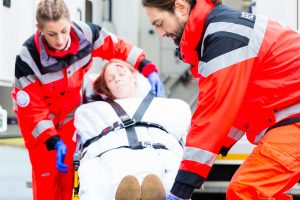 San Diego Serious Injury Lawyer
Have you Suffered Paralysis after a Serious Car Accident?
If you are suffering from paralysis after another's reckless or negligent driving caused a serious accident, you need to speak to a San Diego car accident attorney immediately. Liability issues can become complex in a paralysis claim and only a highly skilled attorney should be trusted with the case. Depending on the circumstance of the accident, the type of liability can vary from strict liability (where the person is held responsible regardless of any negligence involved) to negligence (not utilizing proper caution in order to prevent an accident). Another type of liability that can be established in paralysis cases is intentional wrongdoing. This would involve the purposeful cause of injury to the victim.
Wrongful Death-Car Accident Lawyer serving San Diego
Car accidents are a leading cause of permanent paralysis. Temporary paralysis is possible and is usually brought about by severe swelling that acts on the nervous system and prevents movement in some parts of the body. Once the swelling subsides, normal motion should return. Permanent and temporary paralysis can be detected by numbness and/or loss of motion. It is extremely important to seek medical help immediately after the first symptom. If paralysis is detected early on, you may be able to retain motion and sensation in the affected area.
Serious accidents can result in permanent loss of both motion and sensation in one or more areas of the body. Studies show that more than half of the present cases of paralysis were caused by an auto accident. Spinal cord injuries are often associated with roof crush. This can cause the area of the vehicle to become contorted and throw the spine out of shape. Very often, the result is permanent paralysis and deeply affected lives. Our attorneys have helped countless clients obtain compensation commensurate with their injuries and hardship, allow us to help you too.
Contact a San Diego Car Accident Attorney immediately if you are suffering from paralysis after a serious car accident.
San Diego Accidental Amputation Lawyer
Car Accident Attorney in San Diego Serving Amputation Victims
Our firm's highest goal is to provide excellent legal representation to those who have endured the tragedy of losing a limb in a serious car accident. We understand that many who suffer serious injuries that lead to amputation are going through an unimaginable loss. We aim to help car accident victims who have endured accidental amputation through the legal process as much as possible and pride ourselves on obtaining the maximum compensation possible for their injuries. It surprises many people that after such a catastrophic injury, insurance companies are still not always willing to part with the settlement amount that is needed. A highly skilled and experienced San Diego car accident attorney can deal with your insurance company by providing them with the information they need while upholding your rights as well.
Car Accident Lawyer in San Diego
There are a number of issues resulting from limb loss that a car accident victim may have to face including: loss of work, loss of prior lifestyle, grief over limb loss, surgical problems, medical problems resulting from the amputation and much more. In order to ensure you have the best chance of receiving the full amount of compensation you are due, it is best to higher a highly skilled attorney. The medical services required by an accidental amputation victim may vary from person to person. A prosthetic limb may benefit the car accident victim greatly and should be part of the medical compensation he or she receives from the insurance company. If you or a loved one has suffered from a tragic accident that resulted in an amputation, you should understand that this opportunity to recover compensation should not be taken lightly. You only get one chance to recover the damages you were made to endure. Nothing can make up for the loss of a limb, but at the very least you can get the medical care you deserve.
Contact a San Diego Car Accident Attorney today if you have experienced a tragic accident that resulted in amputation.
San Diego Accidental Amputation Injury Attorney
Accidents that result in amputation can be one of the most devastating experiences an individual can experience, physically and emotionally. The loss of an appendage is extremely traumatic, and has substantial consequences that affect a person for the rest of their lives. There are many circumstances in which an accidental amputation can occur, including:
Motor vehicle accidents
Construction site/worksite accidents
Defective products
High falls
In many cases, negligence on the part of another person is to blame for an accidental amputation. In situations like these, the victim may be entitled to significant compensation from the person who caused the accident to occur. If you or a family member has suffered an accidental amputation, it is strongly advised that you contact a San Diego personal injury attorney who will be able to assist you in possibly obtaining restitution for your injury.
Legal Assistance in your Accidental Amputation Case
As accidental amputation injuries are so severe, they can cause many difficulties for the victim, and may require prosthetic replacement, retraining in performing basic functions, continuous physical therapy, and home modification. As the costs for these things can be great, it is only fair that the parties responsible for such injuries provide payment to the victim so that they can ensure those costs are covered, and recover from the accident to the fullest possible extent. Pacific Attorney Group has fought for the rights of those injured in accidents since 2003, and our attorney team possesses 35 years of collective experience in practicing law. If you require help in your accidental amputation case, contact us today, and we will employ our knowledge and resources to increase your chances of an outcome that is beneficial to you.
San Diego Aortic Aneurysm Lawyer
About Aortic Aneurysms
An aortic aneurysm occurs when there is a weakening of the wall of the aorta and is an extremely serious medical condition. If a doctor fails to identify and treat an aortic aneurysm it can result in death for the victim. The symptoms of an aortic aneurysm include extreme pain, nausea, and shortness of breath. When victims of an aortic aneurysm do survive it is often not without serious and permanent damage. Our firm will hold the responsible party's accountable for their actions in every aortic aneurysm case taken on. Please speak with a San Diego catastrophic injury attorney immediately if you have suffered from an aortic aneurysm or lost a loved on tragically to it.
If a medical practitioner is negligent in diagnosing an aortic aneurysm, it can prove devastating for a victim and their family. There have been many times when aortic aneurysms were dismissed as merely heartburn or some other minor condition. Later on, the problem may have developed too long to be reversible.
Serious Injury Attorney in San Diego
An attorney can review your case and inform you as to whether or not you can make a claim for compensation. Insurance companies can often be extremely difficult to deal with. They do not want to part with their settlement amounts easily and when they do negotiate a settlement, it is often far less than what was actually owed. People will sometimes accept a lowered settlement because they are unaware of the fact that a skilled attorney could have gotten them much more.
Please do not hesitate to call our firm if you or a loved one has been the victim of an aortic aneurysm. We are ready to fight aggressively for your compensation and justice. We have been helping victims of aortic aneurysm for 35 years.
Contact a San Diego Serious Injury Lawyer Attorney immediately if you have suffered an aortic aneurysm.
San Diego Cerebral Palsy Injuries Lawyer
San Diego Personal Injury Lawyer
Cerebral palsy injuries result from a birth injury caused mainly due to lack of oxygen during the labor and delivery process. This type of injury is often caused by medical malpractice due to medical personnel failing to properly monitor the vital signs of the infant, especially during a difficult or lengthy labor. Lack of oxygen can damage the brain, leading to the devastating results found in cerebral palsy. If your child has been born with cerebral palsy, contact a San Diego serious injury attorney to find out what your legal options are in regards to pursuing compensation for the injuries suffered by your child.
Reasons for Cerebral Palsy Injuries
Cerebral palsy is not an injury that is unavoidable. With the proper care, your child should never have had to suffer such a traumatic injury. These cases normally result when there is a larger than normal baby, or it is breech, and there is difficulty in the child going through the birth canal. A tangling of the umbilical cord cutting blood supply can also cause lack of oxygen to the brain. Fetal monitors are supposed to be carefully monitored to act quickly if the baby appears to be in any distress. Even a caesarean might be warranted to avoid such a situation.
Sadly, cerebral palsy will normally affect a child for the rest of their life, requiring continued medical care and the attendant costs. To help you recover from this emotional and physical loss, the Pacific Attorney Group can aggressively pursue a claim on your behalf. These types of cases require a skilled and knowledgeable personal injury lawyer to carefully review the medical records so as to locate the negligent party. These cases often require medical experts and witness testimony. Our firm has the resources you need during this difficult time. Call us today for a consultation to discuss your case.
Contact a San Diego Serious Injury Lawyer to get more information regarding your child's cerebral palsy injury.
San Diego Disfigurement Lawyer
Regarding Disfiguring Injuries
Any serious accident is a devastating event in the life of an individual. It affects not only the injured person but the entire family and his or her friends and associates. The physical trauma can be financially ruinous. In cases where disfigurement is a result the cost simply cannot be fully repaid. If you or a loved one has been disfigured through an accident which was caused by another do not waste any time consulting a San Diego catastrophic injury attorney. It is so important to receive the very best medical care and treatment to obtain the best possible outcome in your recovery.
Disfigurement Lawyer in San Diego
The emotional and psychological suffering experienced by someone who has been disfigured through carelessness or the reckless behavior of another can last a lifetime. Burn scars, amputations, and others can cause great emotional pain. The medical profession has made great advances in its ability to repair injuries, save lives and restore appearance. Some injuries are still beyond the ability of the medical profession. This means an injured person may have to live with an altered appearance, sometimes an appearance which makes looking in the mirror a painful experience. Personal injury law allows an injured individual to hold the negligent party financially responsible for all expenses and losses which resulted from the accident. The compensation which a disfigurement lawyer at our firm will demand on your behalf could make a significant difference in how you proceed with your life.
In addition to current medical expenses and loss of wages you may be due compensation for future medical procedures, pain and suffering, loss of enjoyment of life and much more. Our legal team is dedicated to providing an injured client with the resources vital to your future. Each case is painstakingly prepared to win the maximum compensation. Talk with an experience catastrophic injury lawyer at Pacific Attorney Group concerning the circumstances of your injury and the options which are available to you.
Contact a San Diego Disfigurement Attorney at the firm who is prepared to fight for a client who has been injured by another.
Eye Injury – Contact a San Diego Personal Injury Lawyer
Talking to an attorney experienced in handling eye injury claims is important if you or someone you know has been injured in an accident or any situation related to physical trauma to the eye, loss of eyesight, or any related matter in the San Diego area. In these cases, having the opportunity to recover the full financial compensation to which you may be entitled will be crucial to your ability to pay for medical bills and to face a more secure future. Do not wait to discuss your case with a professional who can answer your questions, address your particular concerns and work to protect your legal rights and interests.
Your initial consultation with a San Diego injury lawyer at Pacific Attorney Group is free and confidential. Call today to undergo your case evaluation: 800.358.9617. We accept phone calls 24 hours a day, 7 days a week and will be happy to see how we can help you.
Eye Injuries in San Diego – Who is Accountable?
The party to be held accountable for an eye injury may vary depending on the particular situation. For example, a defective product may cause an eye injury. A nail gun, power drill, table saw or other piece of machinery or safety equipment may malfunction and cause a serious eye injury. In this case, the manufacturer or distributor may be held accountable. Workplace accidents may be another cause of an eye injury, in which case the victim would be able to file a workers' compensation claim to seek financial benefits, regardless of who was at fault. Auto accidents, falls, exposure to toxins, construction accidents, and intentional attacks may all cause eye injuries as well. Investigating the particular case to determine who should be held accountable will be a key part of your San Diego eye injury attorney's services.
Find out who should be held responsible for your San Diego eye injury claim. Contact an attorney at our law offices today!
Facial Injuries
San Diego Car Accident Attorney representing injured victims
Facial injuries caused by car accidents can require extensive and costly medial treatment. If permanent scarring or disfigurement of the face is involved, it can be very emotionally traumatic to the individual. Motor vehicle accidents are the number one cause of facial disfigurement today. There are a number of surgeries that may be required to treat facial injuries and disfigurement including: dental surgery, eye surgery, bone grafts, skin grafts, and scar tissue surgery. A facial injury can be extremely hard for someone to deal with. Compound it with knowing that another driver could have prevented the accident and you can see how difficult it can be to deal with a serious facial injury. You need a highly skilled and experienced San Diego car accident attorney on your side fighting for your full and fair compensation. Our firm has represented many clients with facial injuries and may be able to start assisting you immediately.
Car Accident Lawyer in San Diego
Always seek immediate care after a facial injury; it could prevent permanent damage to your face. Plastic surgery may be a requirement in the most serious of facial injury cases. Health insurance companies often will refuse to cover plastic surgery. This is just one of the reasons having an attorney on your side can benefit you greatly. Not only can they provide insurance companies with the information they need, they can also uphold your rights and make sure that insurance adjusters don't take away the compensation you deserve. According to statistics, those who proceed to file a personal injury claim without the help of an attorney actually receive on average less than half of what they would have is they had hired a lawyer. We understand how important receiving proper medical care can be after a facial injury, and want to help.
Contact a San Diego Car Accident Attorney if you have sustained facial injuries in an accident and don't know where to turn.
San Diego Facial Injuries Lawyer
San Diego Residents: Are You Hurting from Facial Injuries?
Facial injuries include facial burns, wounds, bruises as well as broken facial bones. The eyes, jaw or nose may be hurt. These injuries may impair sight, breathing and eating and cause disfigurement. Automobile accidents, construction accidents, falls, sports injuries and violence between persons are common causes. If you are suffering from facial injuries, you must seek immediate medical attention. If these injuries are the result of the wrongdoing of others, you are due indemnification for your injuries. As these injuries can be severe requiring extensive care for many years, it is important that you seek the assistance of a catastrophic injury attorney in San Diego to maximize your chances of full compensation.
Compensation for Facial Injuries
Where you have been injured due to the reckless or negligent actions of another, you are entitled to damages. It is vital that you have the guidance of attorney in evaluating your damages so that no compensable item is overlooked. You have a right to compensation for your ambulance, medical, hospitalization and nursing bills for now and in the future. Plastic surgery may be included. You also have a right to recompense for pain and suffering including the trauma of disfigurement. Loss of income from being out of work and property damage to your car may be compensated additionally. Where the other party's conduct was outrageous, you may be able to claim punitive damages.
Facial injuries Attorney in San Diego
We of the Pacific Attorney Group are a seasoned and aggressive facial injuries law firm serving the San Diego, California area. We pride ourselves on close communication with our clients, diligent case preparation and compelling courtroom presentation. We encourage you to speak with a facial injuries lawyer at the firm about your case. The consultation is free and you pay no legal fees until we recover a settlement or jury verdict on your behalf.
For a free consultation, contact a Personal Injury Lawyer in San Diego for help with your facial injuries claim or law suit.
San Diego Foot Injury Lawyer
Foot Injury accidents
More Americans lead a sedentary life style currently than in earlier times with driving or riding to work and sitting at a desk or work station. Even so great demand is placed upon feet to transport us from one point to another, in and out of buildings, up and down stairs and so on. Feet collide with heavy objects, are easily pinched in doors, crushed by falling objects or in serious auto accidents, even suffer accidental amputation through equipment malfunction. If you have received a foot injury because of another's careless or intentional action it is vital that you discuss the circumstances with a San Diego catastrophic injury attorney as soon as possible. Compensation may be available to you which could assist in your recovery.
Foot Injury Lawyer in San Diego
Foot injuries can affect your livelihood, your long-term health even your emotional well-being. The structure of a foot is complex and it is constantly required to handle heavy loads. Therefore treatment for any foot injury is generally carried out by a specialist. In the case of serious injury a number of specialists may be required to ensure the best possible outcome. It is neither reasonable nor fair for a person who has been injured in an accident caused by another's negligence or recklessness to have to meet such a financial burden. An experienced foot injury lawyer with our firm has seen foot and ankle injuries occur in a variety of circumstances and is prepared to thoroughly investigate to gather the facts and evidence in order to identify the negligent party.
Expert witnesses may be needed to supply technical or medical information during the preparation of a claim. Our legal team cares about the future of a client and understands that proper medical care and a stress free environment will be most conducive to healing. A catastrophic injury lawyer with our firm considers open communication with an injured client to be a key factor in achieving a positive result. Call the Pacific Attorney Group to discuss your case and your future.
Contact a San Diego Foot Injury Attorney at the firm to discuss your options with an attorney who will protect your interests.
Internal Bleeding Injuries
San Diego Serious Injury Attorney
When a person is injured in a serious accident they may suffer internal bleeding from their injuries. Auto, pedestrian, construction and many other types of accidents can result in the type of injury that causes internal bleeding, such as fractures, punctures to various organs or blows to the head. These types of injuries can leave long term effects on the injured person, requiring hospitalization and possibly long term care. A San Diego serious injury attorney from Pacific Attorney Group can advise you as to your rights to compensation when facing this traumatic situation.
Recovering from Internal Bleeding
Due to the severity of these types of injuries, surgery is often necessary to stop the blood flow. This alone can add tremendously to your recovery period as well as your medical costs. The risks of infection and other potential problems from damage to organs can cause a significant change in your ability to enjoy life in the future. Damage to the kidneys or liver can be life threatening, and injuries to other vital organs can result in paralysis, dialysis, or the necessity of colostomy bags.
Our firm has extensive experience in successfully fighting for the maximum compensation a person is entitled to when suffering serious injuries. Don't accept any settlement offers from an insurance company before consulting with one of our skilled and knowledgeable personal injury lawyers. We can properly evaluate your claim to determine a compensation figure that is advantageous for you in light of the extensive recovery and medical treatment you will likely require.
Our firm offers a free initial consultation to discuss your legal options as well as personalized service. Our goal is to allow you to recover from your injuries while we handle the legal transactions and settlement for you.
Contact a San Diego Serious Injury Lawyer when facing the serious consequences of an internal bleeding injury.
Lesion Infections
San Diego Serious Injury Attorney
When wounds from animal bites, burns, cuts, scrapes, or from surgery are infected by normal skin bacteria they are known as secondarily infected traumatic lesions. Motor vehicle, bicycle and motorcycle accidents can cause injuries such as abrasions, scrapes and lacerations that can turn into these infected traumatic lesions if not treated correctly or in a timely manner.
These types of wounds can take a long time to heal. Those who have a higher chance of being at risk for these lesions are those who have diabetes, malnutrition, are elderly, going through radiation or chemotherapy or have a compromised immune system. If you or a loved one have been the victim of an accident in which there were wounds that then became infected and developed into serious secondary traumatic lesions, contact a San Diego serious injury attorney today from the Pacific Law Group.
Brain Lesion Infections
A brain lesion is an area of injury or disease within the brain. An abscess is one type of lesion and is an infection in the brain that contains pus and inflamed tissue. When caused by head trauma, such as in a motor vehicle crash, a compound skull fracture occurs, pushing pieces of bone into the brain, causing the brain abscess. Another cause of a brain lesion infection would be a bullet or other foreign object lodged in the brain, such as through a mistake made during surgery. When this is the case, it is usually easy to determine the cause of the injury.
For 35 years collectively, our firm has been representing those who have sustained many kinds of serious injuries that have been caused by negligent or reckless actions of others due to defective products, auto accidents or medical malpractice. Come speak with us about what can be done to resolve your case and pursue compensation for your injuries
Contact a San Diego Serious Injury Attorney to pursue compensation for your lesion infection injuries.
San Diego Catastrophic Injury Lawyer
The loss of eyesight, whether partial or complete, may be considered a catastrophic injury because of the significant impact this may have on every aspect of the victim's life. Losing the ability to see will mean that the victim can no longer read or write and will have to relearn these basic skills. It will affect one's ability to perform day to day activities, from driving to making coffee. When a loss of eyesight is related to negligence or intentional misconduct on the part of another person, this may be grounds for a personal injury claim or lawsuit. If the incident was work-related, a workers' compensation claim may be filed on the victim's behalf.
Interested in getting more information about your legal rights in the wake of any serious accident that resulted in eyesight loss? A San Diego catastrophic injury lawyer at our law offices can meet with you to talk about your right to financial compensation. We can conduct a complete evaluation of your case to determine what is needed to exercise your legal rights to the fullest extent of the law, holding the responsible party liable for their actions and helping you recover money that will help you rebuild your life and begin moving on.
What Causes a Loss of Eyesight?
Loss of eyesight may have natural causes, such as old age. In some situations, however, it may be directly linked to some form of physical trauma, such as eye injury or brain damage. A severe blow to the head, chemical or light exposure, a fall, and various other situations may cause a person to sustain an injury that will result in a loss of eyesight. When you work with an attorney at our offices, we will take action to determine exactly what caused this and who should be held responsible.
Loss Of Sensation Suffered in Serious Injury Accidents
Serious Injury Attorney in San Diego
Serious injuries can lead to many adverse affects in a person's life. One of these is the loss of sensation in parts of the body, including the legs, feet, hands, arms or the entire upper or lower body. A loss of sensation can be caused by serious accidents that damage the spinal cord, the brain, the nerves or specific areas of the body that are affected. When suffering from a loss of sensation injury caused by the negligence of another, contact a San Diego serious injury attorney to discuss your legal options.
Effects of Loss of Sensation Injuries
When injured with a subsequent loss of sensation, a person can find themselves with the devastating consequences of attempting to recover from these serious injuries. A brain injury can cause loss of sensation if the motor controls of the brain are damaged and no longer supply messages to the body part that is affected. Spinal cord injuries can result in paralysis to both the upper and lower body, leaving no sensation in those areas and a person being unable to use those limbs. Nerve damage can also leave a person without feeling in the affected body part. Accidents such as car accidents, work accidents, slip & falls, construction accidents and medical procedures can all lead to this type of an injury.
When a person suffers from this type of an injury, it can be a long road to rehabilitation, often with little hope of full recovery. This type of injury can affect the rest of a person's life, leaving them sometimes requiring lifelong medical care if they become paralyzed and cannot take care of themselves.
At Pacific Attorney Group, we understand the emotional trauma this type of injury causes you and your family. In order to attempt a recovery and for future care, your medical and financial needs must be met. Our firm is dedicated to investigating the cause of your accident and pursuing those responsible for your injuries in order to help you recover the compensation you deserve.
Contact a San Diego Serious Injury Lawyer to discuss your legal options after a loss of sensation injury.
San Diego Paralysis Accidents Lawyer
Of all the injuries that an individual can sustain in an accident, those leading to paralysis are amongst the most catastrophic. The sudden loss of a person's mobility causes adverse affects that last for the remainder of their life, as well as substantial hardships.
Paralysis is typically caused by heavy trauma to the spine, such as a very hard blow, a high fall, or a sudden torquing or overextension of the spine itself. The vertebrae that make up the spine are cracked or broken, which in turn causes damage to the spinal cord and results in the paralysis of the person's lower body, upper body, or both. There are many accident scenarios in which paralysis can occur, including sports accidents, auto accidents, construction accidents, and slip/trip & falls, and in many cases these accidents are caused by the negligent behavior of another person. If you or a loved one has been paralyzed in an accident that was someone else's fault, you may be entitled to considerable monetary compensation for the damages you have suffered. A San Diego personal injury lawyer can provide you with the professional help you need to increase the likelihood of actually obtaining that compensation.
Pacific Attorney Group in San Diego provides high quality legal representation to those injured in accidents, and we are fully capable of assisting you in your paralysis case. We have been handling personal injury cases since 2003, and we employ a thorough, aggressive approach to litigation that is designed to serve the best interests of our clients. Contact our offices today, and we will fight on your behalf for the compensation you deserve after suffering such a devastating accident.
San Diego Paraplegia Lawyer
An Overview of Paraplegia Injuries
Paraplegia is a form of paralysis that can occur in the event of a traumatic spinal cord injury. The primary symptom involves the victim being unable to move the lower part of their body, as well as being unable to experience any sensation in the area. The consequences of this injury are often devastating, as they leave the individual unable to move without some form of assistance, such as a wheelchair. The financial ramifications can also be great, as the injury frequently leaves them unable to pursue gainful employment, and the costs for treating such injuries can be prohibitively expensive.
If you or a family member has suffered paraplegia in an accident that was caused by another's negligence, it is highly recommended you contact a San Diego personal injury lawyer right away. You may be entitled to compensation from the parties responsible, and an attorney can provide you with qualified legal help that will increase your chances of obtaining the maximum compensation in your case.
Do you require legal representation in your paraplegia case?
If you have been left suffering from paraplegia after an accident, the last thing you should have to worry about is how you are going to cover the costs associated with your injury. We at Pacific Attorney Group believe that those responsible for injurious accidents should be held fully liable for the damages they inflict on innocent victims, and that is why we fight aggressively for the rights of those victims in their personal injury cases. Contact our offices today about your paraplegia case, and we will work diligently with the goal of securing the maximum compensation for your injury, so that you can recover to the fullest possible extent without worrying about the financial impact to you and your family.
Paraplegia
San Diego Serious Injury Lawyer
Paraplegia is a condition that involves the partial or total paralysis of both the legs and possibly the lower part of the torso. Paraplegia is caused by spinal cord injury at any point on the spine below the base of the neck. Depending on the point of injury and the extent of nerve damage, a paraplegic may not only lose sensation and motor function in the affected area of the body but may also suffer from loss of bladder and bowel control as well as the loss of sexual function. Paraplegia will most likely affect all aspects of an accident victim's life.
Considering the significant impact an injury of this kind may have, it is important to seek justice and also determine how you can recover financial compensation for what you have experienced as well as what you will have to endure for years to come. A San Diego paraplegia attorney can assist you by first evaluating your case to determine your legal options. Depending on the situation, at that point your attorney can assist you with any insurance claims related to the accident or can file a lawsuit on your behalf against the person or entity that should be held accountable. By then conducting a thorough investigation and analyzing every single aspect of the situation that led to your paraplegia as well as exactly the financial, emotional and physical impact this will have on you and your family, your attorney can then seek the full financial compensation to which you should be entitled under California personal injury law.
Our law firm handles paraplegia claims and lawsuits throughout all of San Diego, including those that involve auto accidents, workplace accidents, falls, defective products, medical malpractice, and even intentional wrongdoing.
Contact a San Diego serious injury lawyer at our offices to talk about your paralysis case in San Diego, California.
San Diego Quadriplegia Attorney
Legal Help for Quadriplegia Victims
Quadriplegia is the most severe form of paralysis that occurs in the aftermath of a serious spinal cord injury. The symptoms of this condition typically include:
Loss of sensation and function in one's appendages
Difficulty breathing
Loss of bowel control
Loss of bladder control
Significant impairment to the chest and abdominal muscles
Shortened life span
Quadriplegia is extremely devastating for an individual, as they are rendered completely unable to move on their own or engage in the most basic actions related to taking care of themselves. Often, a lifetime of rehabilitative care and intensive therapy is needed, resulting in costs to the victim that are prohibitively expensive. There are many accident situations in which a person can be left suffering from quadriplegia, and these accidents are often the result of another's negligence. If negligence has led to you or a loved one suffering from quadriplegia, it is very important you seek the help of a San Diego personal injury attorney who can represent you in your case and assist you in seeking the fair compensation you require for the treatment of the injuries sustained.
San Diego Quadriplegia Lawyer
Pacific Attorney Group is an experienced law firm that handles personal injury cases throughout the San Diego area. We have assisted many individuals since our inception in 2003, and our attorney team possesses well over 3 decades of experience in practicing law. We can assist you if you or a loved one has suffered quadriplegia in an accident by seeking compensation from those responsible. We will do our utmost to improve your chances of a case outcome that allows you to fully cover the costs of the damages incurred in your accident.
Quadriplegia
Serious Injury Attorney in San Diego
Contacting an attorney is an important step to take if a serious accident left you or a loved one dealing with quadriplegia. Your entire life and future will be forever altered. You may face a lifetime of medical expenses and continued care that, combined with the inability to work, may lead to severe financial strain. At Pacific Attorney Group, we know that there is nothing we can do to prevent an injury of this magnitude from occurring in the first place. We can, however, work to ease the burden of all legal matters and medical costs associated with your accident. A San Diego injury attorney at our law offices can help you seek the medical care you need while handling your claim or lawsuit to seek the financial damages we believe you rightfully deserve.
If someone else is responsible for what happened to you, this may mean that you have grounds to file a personal injury lawsuit against that party. You may be able to hold them accountable for their actions while at the same time recovering money that will help alleviate the financial burden you and your family are facing.
About Quadriplegia
Quadriplegia is caused by nerve damage in upper part of the spinal cord, above the base of the neck. Nerve damage in this area results in the partial or complete paralysis of both arms and legs and possibly the torso as well. Loss of sensation and motor function are two of the primary symptoms of this condition, as well as the loss of bladder and bowel control, loss of sexual function and possibly difficulty breathing or coughing. Other medical conditions may be associated with quadriplegia, often shortening one's lifespan.
Get experienced, compassionate help with your case. Contact a San Diego quadriplegia lawyer at Pacific Attorney Group today for a free consultation.
Severe Avulsions
San Diego Serious Injury Attorney
Severe avulsions are injuries where there is a forcible detachment of a part of the body. The word avulsion comes from the Latin word avellere, which means "tear off". It is similar to an abrasion, but much more severe. All of the layers of skin are torn away, revealing the underlying tissue, muscles and tendons. Some of the body parts that can be partially or fully torn away because of an avulsion are:
Ear
Eyelid
Nail
Skin
Nerve (brachial plexus)
Tooth
Avulsions can be caused by many different kinds of accidents. Ear avulsions are most commonly caused by human bites, falls, motor vehicle accidents and dog bites. Eyelid avulsions are caused by dog bites, motor vehicle accidents and human bites. Severe pressure or impact to the toenails or fingernails can cause a nail avulsion in which the nail is torn off.
The most common of all avulsion injuries are skin avulsions. They occur most often during car accidents, truck jackknifes and motorcycle accidents in which the bike goes down. If you or a family member has experienced a severe avulsion injury due to the negligence of another, contact a San Diego serious injury attorney from the Pacific Attorney Group to review the circumstances of your accident. Our firm can help you recover damages from your losses during this troubling time.
Choosing the Right Legal Advocate for Your Needs
The Pacific Attorney Group has over 35 years of collective experience. In that time we have seen how serious and traumatic injuries can affect a person and their family members. We will advocate for full compensation on your behalf to pay for your medical bills, past and future wages, and pain and suffering. We are available for a no charge initial consultation to discuss your case.
Contact a San Diego Serious Injury Lawyer today to discuss pursuing compensation for your injuries.
Severe Contusions
San Diego Serious Injury Attorney
A contusion is an injury to the bone, muscle or soft tissue of the body. The cause is usually blunt force trauma. Most people will experience simple contusions in life from bumping into things. Serious contusions can cause considerable injury. Certain kinds of contusions are called bruises. A muscle bruise causes injury to the muscles. There may be a visible lump at the point of the injury. Muscle contusions can cause stiffness, cramping, and a lot of pain. A very severe kind of contusion is a bone bruise. Though not an actual break in the bone, they can cause severe pain. An x-ray must be done to ensure there has been no fracture. They may affect movement, similar to a broken bone. They can last for a long time and may require physical therapy.
Cerebral contusions are severe bruises to the brain. There may be injury to the brain at the site of impact and where the brain has bounced against the skull. Swelling and extreme bleeding can occur, leading to permanent brain damage or death. The most common causes of cerebral contusions are falls, motor vehicle accidents, assaults and other types of catastrophic head trauma. If you or a loved one has experienced a severe contusion in an accident caused by the negligent or reckless actions of another, you should consult a San Diego serious injury attorney with the Pacific Attorney Group. With 35 years of collective experience, we are aggressive litigators and tough negotiators with insurance companies when it comes to getting the compensation you are entitled to for your injuries.
We Will Fight for Compensation on Your Behalf
People who have severe cerebral contusions often have difficulty with thinking, attention span, emotions, and memory. It is devastating to see a family member whose personality and quality of live have changed because of a brain injury. If you have experience any kind of severe contusion, we will fight to get you damages for:
Medical bills
Lost Wages
Pain and suffering
Impaired earning capacity
Future Damages
Home healthcare
Punitive Damages
Contact a San Diego Serious Injury Lawyer today if you or a loved one had experienced a severe contusion.
Severe Fractures
San Diego Serious Injury Lawyer
Broken bones and fractures are often the result of car and motorcycle accidents. When the force or impact of a collision is greater than the strength of a bone, a fracture occurs. Head-on collisions or side impact crashes can cause broken wrists, arms, hands and fingers. Windshield and dashboard impacts may cause broken noses, skull fractures, and cheek, chin and jaw fractures. If there is extreme force in a crash there may be broken ankles, legs. If a motor vehicle hits a pedestrian, that person may receive broken bones in their neck, back or other parts of their body.
There are two different kinds of fractures. A closed fracture occurs when the broken bone does not break through the skin. An open fracture occurs when there is a tearing of the skin and the bone may be protruding. Medical treatment after an accident should be done immediately to ascertain how severe the injury is and to determine if there are additional injuries besides fractures. If you have experienced broken bones or fractures as the result of an accident, contact a San Diego serious injury lawyer from the Pacific Attorney Group to discuss your legal options.
Take Time to Settle Your Case
When severe fractures are part of the injuries involved in a case it is vital that you do not settle the case very quickly. Insurance companies and adjusters commonly try to resolve cases quickly, but if there are a number of injures besides broken bones, a clear prognosis may be difficult. It may take a period of time to be able to determine what the long term outcome of the accident will be. Conditions such as arthritis, nerve damage, and muscles, disc, ligaments and tendon difficulties may not become evident for several months. When a child experiences severe fractures in a car or motorcycle accident there may be health problems occurring for a number of years. Our firm is committed to thoroughly investigating your accident, or the accident of a loved one, and obtaining the compensation you will need for your medical expenses and for any other current and future financial concerns.
Contact a San Diego Serious Injury Attorney today to discuss pursuing compensation for your severe fractures and other injuries.
San Diego Soft Tissue Injuries Attorney
Car Accident Attorney serving San Diego
A common injury sustained in car accidents is called a "soft tissue injury". These injuries can be extremely inconveniencing not to mention painful. For many, the ability to work is lessened severely or simply impossible. A soft tissue injury may be a sprain, strain, or bruising. Seriously sprained ligaments in the knee, back, or neck can require medical treatment for years. A skilled attorney is often needed to pursue a soft tissue claim as insurance companies are likely to brush it off as a small accident with minor damage. May insurance adjusters will also claim that soft tissue injuries are not serious and impermanent. This is completely false. Soft tissue injuries can result in permanent disability if not treated correctly and sometimes even if they are. A San Diego car accident attorney can help you file your claim and answer any questions you may have.
Car Accident Lawyer in San Diego-Soft Tissue Injuries
Whiplash is one of the most common car accident injuries and occurs only when a sudden impact I present. It is a neck injury, which comes about when the driver or passenger's head moves abruptly in one direction and then the other. The result can be severely damaged neck muscles, ligaments, and tendons. Some are unable to move their neck for extended periods of time and suffer great pain. If you have suffered a soft tissue injury and believe that another party is at fault for the crash, you need to speak with an attorney immediately. A skilled attorney from our firm may be able to handle your claim for compensation. We can greatly improve your chances of receiving far more compensation than you would have without an experienced lawyer on your side. No matter the extent of your soft tissue injury, review your case with an attorney.
Contact a San Diego Car Accident Attorney today you have suffered soft tissue injuries resulting from an accident.
Are You Suffering from Soft Tissue Injuries in San Diego?
Soft tissue injuries involve injury to muscles, tendons and ligaments. The tendons join muscle to bones and ligaments connect bones to each other. These injuries do not show up on x-ray but are very real. Individuals suffering from soft tissue injury may experience pain, loss of function, inflammation and bruises.
Soft tissue injuries often occur in car accidents with whiplash as a common form. Sudden stopping jerks the head forward and back putting huge stress on the neck. This can result in derangement of the joints, spine and back with chronic pain.
When a person suffers a soft tissue injury, he may not experience the pain for several hours. But when it arrives, it can be continual and intense. One should seek immediate care for these injuries. If the injuries were caused by the wrongdoing of another, you encouraged to contact a San Diego catastrophic injury lawyer for compensation.
Compensation for Soft Tissue Injuries
You are owed compensation for soft tissue injuries caused by the negligence or recklessness of another. Damages include:
Loss of income
Medical, chiropractic, hospital and ambulance bills
Pain and suffering
Rehabilitation expense
Property damage
Soft Tissue Injury Lawyer in San Diego
We at Pacific Attorney Group are experienced soft tissue injury lawyers serving the San Diego, California area. We are dedicated to providing you with top quality service and aggressive representation of your soft injury claim. We invite you to call for a free consultation with a soft injury lawyer at the firm. The lawyer will evaluate your claim, tell you what to expect and how the firm may assist you. You pay no legal fees until we obtain a settlement or jury award on your behalf.
Contact a San Diego Soft Tissue Injury Attorney at the firm for a free consultation about your case.
Subarachnoid Hemorrhage Attorney in San Diego
Have suffered a Subarachnoid Hemorrhage?
A subarachnoid hemorrhage is bleeding that occurs within a space called the subarachnoid space. The subarachnoid space is a cavity that is between a membrane called the arachnoid membrane. Another membrane that covers the brain is called the pia mater. The space exits between these membranes. The sub arachnoid space contains blood vessels, which supply the brain and spinal cord with nutrients and oxygen. When these blood vessels are ruptured due to a blow to the head or other injury, it can result in a subarachnoid hemorrhage. The sub arachnoid space is also very important in terms of keeping your brain out of harms way when it comes to blood infections, neurotoxins, and viruses. The complications that can develop from a subarachnoid hemorrhage include death, stroke, seizures, nausea, vomiting and more. This is a very serious injury that should be treated immediately if you feel you may have suffered a subarachnoid hemorrhage or that another party is responsible for this injury, please speak with a San Diego catastrophic injury attorney immediately.
Catastrophic Injury Lawyer serving San Diego
Subarachnoid hemorrhages unfortunately carry a high fatality rate. The subarachnoid space quickly fills with blood and there is little time to handle the injury before it gets too late. Permanent disability is a common result of subarachnoid brain hemorrhages. Amongst those that survive, a later aneurysm may cause a delayed death. Failure to recognize and treat a subarachnoid hemorrhage can result in death and amounts to medical malpractice. A subarachnoid hemorrhage can also occur during brain surgery.
If you have lost a loved one to a subarachnoid hemorrhage or have survived it with permanent and disabling injuries, it is imperative that you speak with an attorney from our firm today.
Contact a San Diego personal injury lawyer immediately to discover whether or not you have a case.
Do I Have A Case?
the initial consultation is free
Call or email us to schedule a free consultation. You can reach us 24 hours a day, 7 days a week. Our attorneys will travel to wherever is most convenient for you to meet and speak about your case.