The woman and the child died after a wrong-way driver crashed into their car on Interstate 5, WSP says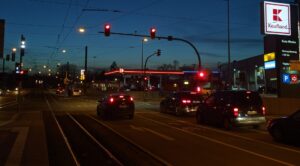 Olympia, Wash. – A woman and a child were killed and another child was injured in a suspected DUI crash in Olympia late Friday night, according to the Washington State Patrol.
The deadly crash occurred around 10:30 p.m. Friday, November 10, on southbound 5 Freeway just north of  US Highway 101.
WSP says a Jeep, driven by a 27-year-old man, was going the wrong way on I-5 when it crashed into a sedan with three people inside, a woman in her 30s and two children – an 8-year-old girl and a 2-year-old boy.
The 2-year-old boy sustained fatal injuries and died at the scene. The woman died while en route to Olimpia airport where she was to be flown to Harborview Medical Center. The girl was taken to Marybridge Hospital and is in critical condition.
Preliminary investigation revealed that the Jeep driver was driving under the influence at the time of the crash. He was arrested after being released from the hospital and taken to Thurston County Jail.
The man faces two vehicular homicide charges and one vehicular assault charge.
Call Pacific Attorney Group Today for Legal Help
Fatal accidents are termed wrongful deaths when caused by negligence or wrongdoing during driving. The other motorist could be recklessly driving, speeding, and driving while under the influence of alcohol and drugs. 
Losing a loved one is not only emotionally draining but also financially overwhelmingly. We always advise that you seek legal assistance from wrongful death attorneys to help you seek payment connected to the killing of your loved one. The payments help pay for burial expenses, loss of income, and medical bills incurred when the deceased received treatment. Call us for a free consultation. Click to call : 866-803-6502.