One Person Dies After Serious Crash on Interstate 10 Avondale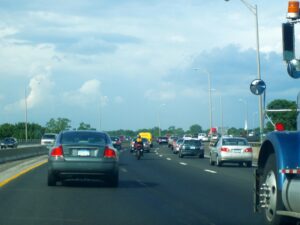 Avondale, Arizona (November 10, 2023) – The person who was seriously injured in a rollover crash on 10 Freeway in Avondale Thursday morning has died.
The deadly collision happened at bout 10:30 a.m. Thursday in the westbound HOV lane of 10 Freeway between Fairway Drive and Avondale Boulevard, according to the Arizona Department of Public Safety.
Three vehicles collided and the impact caused one of the vehicles to overturn and land on its side.
I-10 westbound near Fairway: A crash is blocking the HOV and left two lanes. pic.twitter.com/kHYkc2yFYl

— Arizona DOT (@ArizonaDOT) November 9, 2023
One person was extricated from the overturned vehicle and was hospitalized with serious injuries. The victim, whose name has not been released, later died at the hospital.
Original Story
Avondale, Arizona (November 9, 2023) – At least one person was injured in a rollover collision in Avondale on Thursday morning, according to the Arizona Department of Public Safety.
The collision happened on Interstate 10 between Fairway Drive and Avondale Boulevard at about 10:30 a.m.
DPS said three vehicles were involved in the collision on the westbound side of I-10.
The impact caused one of the vehicles to roll over and one person had to be pulled out by emergency crews.
The party was taken to a hospital with serious injuries.
It's unclear whether there were other injuries in the incident.
Only two westbound lanes of I-10 remained open as authorities investigated the crash.
The investigation is ongoing.
Have you been injured in a rollover accident in Fresno County
Rollover car accidents can be caused by various factors, including excessive speed, driver impairment, driver negligence, tripping, vehicle design or defects, among others. Rollover collisions can cause major injuries or fatalities, and the occupants of the overturned car could get trapped in the wreckage hence making rescue operations difficult.
When a rollover car crash happens, investigators must look keenly into the circumstances of the accident to determine who is to be held responsible. The investigators examine whether there is evidence of drivers' negligent actions such as intoxication, speeding, or failure to follow traffic laws. They also examine the condition of the roads, improper signage, and whether third parties, such as construction companies and maintenance crews, could be held responsible.
Victims or family members of rollover collisions are advised to involve an experienced rollover car accident attorney in their pursuit of justice due to the complex nature of the legal process. Click to call : 866-803-6502 today for a free consultation.