Jorge Soriano Killed in Northridge Pedestrian Accident on Roscoe Boulevard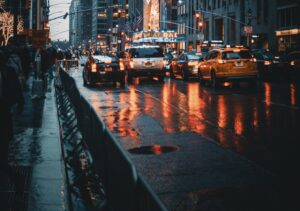 Northridge, California (November 9, 2023) – Jorge Soriano, 31, have been identified as an front-seat passenger killed in an off-duty LAPD Officer's car in Northridge Saturday early morning.
The deadly crash happened at around 1:19 a.m. November 4 in the 18101 block West Roscoe Boulevard near Lindley Avenue.
Reportedly, a four-door BMW operated by Brian David Olivarez, 20, failed to stop at the red light and crashed into an LAPD officer's white Infinity headed northbound on Lindley Avenue driven by Darrell Cunningham for unknown reasons.
One of the cars had lodged against a building and a damaged fire hydrant, according to the authorities.
Soriano and Cunningham were pronounced dead at the crash site, the Los Angeles Fire Department Personnel said.
Three people had been trapped inside the cars. All were extricated and were transported to a hospital.
A woman inside the BMW was hospitalized in serious condition.
Detectives from the LAPD's Multi-Disciplinary Collision Investigation Team arrested Olivarez who was driving under the influence at a high rate of speed at time of crash.
Olivarez was released from custody to the care of the medical staff at a local hospital as officers undertake further investigations.
Detectives gathered additional evidence Wednesday and re-presented the case to the Los Angeles County District Attorney's Office, who filed two counts of murder, two counts of gross vehicular manslaughter while intoxicated and one count of driving under the influence of alcohol and drug causing injury against Olivarez.
Olivarez is being held on $4.025 million bail at the Van Nuys Jail, according to county jail records.
An investigation is ongoing.
Have You Lost a Loved One in a Car Accident?
Fatal car accidents occur when an individual dies due to a traffic collision. Some common factors that cause such accidents include; weather and road conditions, car malfunctions like faulty brakes, and errors caused by motorists, such as weaving in and out of lanes. Whenever you lose a loved one through a fatal collision, seek legal help from experienced attorneys. Our attorneys will help you file a wrongful death claim against the responsible party.  Click to call : 866-803-6502 to contact the Pacific Attorney Group for all your legal needs.