Kannon Pandy Killed in Lancaster Two-vehicle Crash at Challenger Way and Avenue H-14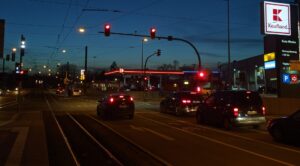 Lancaster, California (September 26, 2023) – Authorities have identified the motorist who died late Monday night in a two-vehicle crash in Lancaster as Kannon Pandy, 19.
Pandy was killed at about 10:40 p.m. Monday, September 25, at Challenger Way and Avenue H-14.
The report said the crash involved a sedan and a sport utility vehicle. Pandy was driving a sedan northbound on Challenger Way when, for some reason, he made an abrupt left turn and T-boned the SUV. The SUV was travelling southbound at the time of the crash.
Pandy sustained fatal injuries and was pronounced dead at the scene. The SUV driver was hospitalized with non-life-threatening injuries.
No additional information regarding the crash was provided.
The incident remains under investigation.
Have You Lost a Loved One in a Car Accident?
Left turn accidents are so common in California and all through the USA. They are caused by motorists who turn left in front of approaching traffic. 
Some of the factors that contribute to left-turn accidents include:
Drivers failure to yield to oncoming vehicles and make a left turn in front of a car.

When a motorist turns left in front of a car without correctly calculating the speed of the oncoming vehicle. 

When a driver is distracted by activities such as receiving a call and fails to see approaching cars and thus turns in front of a car.
When a driver is driving under the influence of drugs and alcohol, it impairs their judgment, thus increasing the probability of a left-turn accident.
Whenever you are involved in a left turn accident, contact the Pacific Attorney Group for legal help. Our car accident attorneys will assist you in understanding the legal procedure as you seek justice.Click to call : 866-803-6502.