Man Dies After Colliding with Semi-truck at Vanbelle Road and Bethany Road in Sunnyside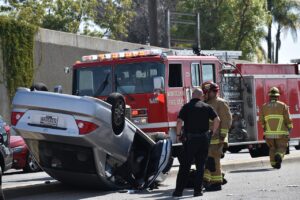 Sunnyside, Washington, (October 27, 2023) – A man was killed after a semi-truck and car collided at an intersection in Sunnyside, according to the Yakima County Sheriff's Office (YCSO).
The deadly crash happened at about 1:30 p.m. Tuesday, October 24, at the intersection of Vanbelle Road and Bethany Road.
As per the YCSO, a Honda Accord was eastbound on Vanbelle Road when it drove through the Stop sign at the intersection.
According to Sunnyside Police, responding crews found the Accord in the intersection, and the semi was stopped in the southbound lane outside the intersection.
The driver of the Accord, a 25-year-old man, was removed from the car. Emergency crews performed life-saving measures on the patient. Unfortunately, the driver succumbed to his injuries at the scene.
The driver of the semi was not injured in the incident.
The crash remains under investigation.
Common Types of Interstate Car Accidents in WA
Interstate traffic collisions in Washington can involve various scenarios and factors. While each accident is unique, here are some common types of car accidents that can occur on interstates in Washington:
Intersection accidents:

Interstates often intersect with other highways, roads, or ramps. Car accidents can happen at these intersections due to factors like failure to yield, red-light violations, or improper lane changes by other vehicles

Lane-changing accidents:

Accidents can occur when a vehicle fails to check blind spots or uses improper signöaling while changing lanes, leading to a collision with another vehicle traveling in the adjacent lane.

Merge-related accidents:

Merge accidents happen when vehicles entering or exiting the interstate fail to yield or properly merge, resulting in a collision with a vehicle already on the highway.
Pacific Attorney Group has a team of skilled attorneys with several years of experience handling injury claims that arise from motorcycle accidents. If you have been injured in an intersection accident or lost a loved one, Click to call : 866-803-6502 us as soon as possible for a free and confidential consultation.