Motorcyclist Seriously Injured in Collision at Friars and Donahue in San Diego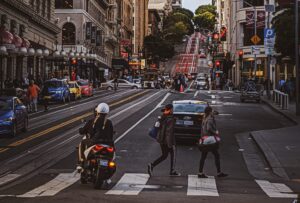 San Diego, California (July 1, 2023) – A motorcyclist was seriously injured after colliding with a vehicle near Morena in San Diego on Friday afternoon.
The accident was reported around 3 p.m. on Friars Road at Donahue Street, according to the San Diego Police Department.
A 30-year-old woman driving a 2018 Honda Civic was attempting to make a left turn from southbound Donahue onto eastbound Friars when she struck a westbound 1999 Harley Davidson motorcycle.
The 31-year-old male rider of the motorcycle suffered major injuries, including a broken pelvis.
The woman suffered minor injuries in the accident.
Authorities say alcohol was not a factor in the crash.
An investigation into the accident is underway.