Two Hurt in Vista Collision on North Santa Fe Avenue and Vista Village Drive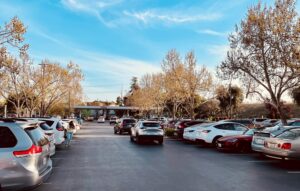 Vista, California (April 17, 2023) – A crash involving a suspected DUI motorist sent two people to a hospital on Monday afternoon in Vista, according to the San Diego County Sheriff's Department.
The collision was reported at around 2:30 p.m. near North Santa Fe Avenue and Vista Village Drive.
Authorities said Saul Celerino Villanueva Delgado, 33, was driving a blue Audi recklessly when a deputy spotted him and initiated a pursuit. 
Delgado then made an illegal U-turn, failed to stop for a red light, and slammed through a median fence.
The Audi collided with an oncoming Nissan SUV with two occupants.
Authorities said Delgado and one person in the SUV were transported to a hospital with unspecified injuries.
Delgado was also arrested on suspicion of driving under the influence.
Authorities are investigating to determine the cause of the incident.