1 Hospitalized After Asuza Car Accident on 210 Freeway near Vernon Avenue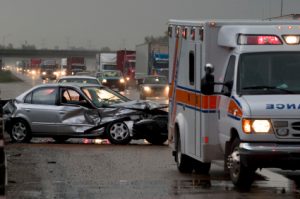 Asuza, California (March 7, 2023) – According to a California Highway Patrol report, one person was hospitalized following a two-vehicle collision on Monday afternoon in Asuza.
The collision occurred on the eastbound 210 Freeway, just west of Vernon Avenue, around 7:19 p.m. on March 6.
Police said a white truck and a blue truck collided for unknown reasons. Sparks came out of the two vehicles after the crash.
A 39-year-old woman complained of headaches from the collision and was transported by Care Ambulance to Pomona Valley Hospital Medical Center for treatment.
The vehicles were towed away from the accident scene.
Chemical was spilled in the roadway following the crash. A SigAlert was issued, closing lanes 2,3 and 4 to give Caltrans time to clear the road.
The SigAlert was canceled, and lanes opened at 10:24 p.m.
Further details regarding this crash were not provided.
The incident remains under investigation.